Black Death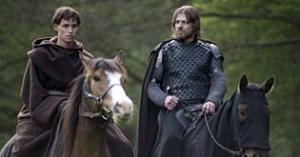 Quelle: Wild Bunch, DIF, © Egoli Tossell Film AG, Ecosse Films, Zephyr Films Ltd
Eddie Redmayne, Sean Bean (v.l.n.r.)
Inhalt
Medieval England has fallen under the shadow of The
Black Death. In this apocalyptic world, filled with fear and
superstition, a young monk called Osmund is charged
with leading a fearsome knight, Ulric, and his group of
mercenaries to a remote marsh. Their quest is to hunt
down a necromancer - someone able to bring the dead
back to life. Torn between his love of God and the love of
a young woman, Osmund discovers the necromancer, a
mysterious beauty called Langiva. After Langiva reveals
her Satanic identity and offers Osmund his heart's desire,
the horror of his real journey begins.

Source: German Films Service & Marketing GmbH
Credits
All Credits
| | |
| --- | --- |
| Director: | Christopher Smith |
| Assistant director: | Barrie McCulloch |
| Script supervisor: | Gabriele Mattner, Zoe Simijonović |
| Screenplay: | Dario Poloni |
| Director of photography: | Sebastian Edschmid |
| Assistant camera: | Philipp Dönch |
| 2nd Camera unit: | Sebastian Meuschel |
| Steadycam operator: | Robert Patzelt |
| Still photography: | Stephanie Kulbach |
| Lighting design: | Marc Lubosch |
| Gaffer: | Patrick Kohlmeier, Daniel Jopp |
| Key grip: | Thorsten Querner |
| Production design: | John Frankish |
| Art director: | Jens Löckmann |
| Set dresser: | Britta Koch |
| Property master: | Jan Rott |
| Stand-by props: | Björn Holzhausen |
| Construction manager: | Christoph Sieber |
| Make-up artist: | Jekaterina Oertel, Juliane Hübner, Anna Sophie Evenkamp, Christoph Kunzmann (SFX) |
| Costume design: | Petra Wellenstein, Brigitte Rodriguez |
| Costumes: | Meike Stangier, Markus Ernst |
| Editing: | Stuart Gazzard |
| Dubbing editor: | Clemens Nürnberger |
| Sound assistant: | Oliver Hemm |
| Special effects: | Adolf Wojtinek |
| Stunt co-ordinator: | Armin Sauer |
| Stunts: | Oliver Fritsche |
| Casting: | Silke Koch, Susann Reitz |
| Music: | Christian Henson |
| | |
| Cast: | |
| Sean Bean | Ulric |
| Eddie Redmayne | Osmund |
| Carice van Houten | Langiva |
| Kimberly Nixon | Averill |
| John Lynch | Wolfstan |
| David Masterson | Mann im Dorf |
| Tim McInnerny | Hob |
| Andy Nyman | Dalywag |
| John Harris | Mold |
| Emun Elliott | Swire |
| | |
| Production company: | Egoli Tossell Film AG (Berlin), Ecosse Films (London) |
| Producer: | Robert Bernstein, Jens Meurer, Phil Robertson, Douglas Rae |
| Executive producer: | Chris Curling |
| Line producer: | Udo Happel |
| Unit production manager: | Henry Rehorek |
| Location manager: | Andreas Jupe, Jan Pyko (Set) |
| Production coordinator: | Daniela Barsch, Jessica Petzold |
| Shoot: | 20.04.2009-09.06.2009: Burg Querfurt, Querfurt (Sachsen-Anhalt), Zehdenick (Brandenburg) |
| Original distributor: | Senator Film Verleih GmbH (Berlin) |
| Funding: | Mitteldeutsche Medienförderung GmbH (MDM) (Leipzig), Medienboard Berlin-Brandenburg GmbH (MBB) (Potsdam), Deutscher Filmförderfonds (DFFF) (Berlin) |
| Length: | 2784 m, 101 min |
| Format: | 35mm |
| Picture/Sound: | Farbe , Dolby |
| Rating: | FSK-Prüfung (DE): 17.08.2010, 124047, ab 16 Jahre/feiertagsfrei |
| Screening: | Kinostart (DE): 09.09.2010 |
Titles
Originaltitel (DE GB) Black Death
Versions
Original

Length:
2784 m, 101 min
Format:
35mm
Picture/Sound:
Farbe , Dolby
Rating:
FSK-Prüfung (DE): 17.08.2010, 124047, ab 16 Jahre/feiertagsfrei
Screening:
Kinostart (DE): 09.09.2010
Verfügbarkeit
Videos
Materials
Current News
External Links