Can I be Your Bratwurst, Please?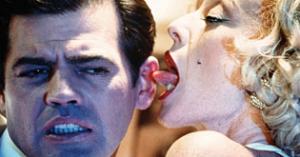 Quelle: W-Film, © Ziegler Film
Jeff Stryker, Dena Drotar
Credits
All Credits
Director:
Rosa von Praunheim
Assistant director:
Lawrence Elbert, Tamar Yakov
Screenplay:
Lawrence Elbert, Rosa von Praunheim
Director of photography:
Lorenz Haarmann
Assistant camera:
Mark Lyons, Rick Taylor
Clapper loader:
Simon Oliver
Still photography:
Greg Day, Katja Perrey
Lighting design:
Bodo Holst
Key grip:
Roy Granada
Production design:
Greg Gibbs
Set design:
Arnie Saiko
Title:
Thomas Wilk
Make-up artist:
Tracy Nelson, Eve
Costume design:
Star Oakland
Editing:
Lorenz Haarmann, Rosa von Praunheim
Sound design:
Constanze Semling
Sound:
Chris Neely, Lori Weinhouse
Sound assistant:
Matt Kuntsun
Audio mixing:
Guido Schwarz
Music:
Alan Ari Lazar
Cast:
Jeff Stryker
Pornostar
Luzy Kryn
Luzy
Karl-Heinz Teuber
Sirena Irwin
Vaginal Davis
Selena Luna
Dena Drotar
Aaron Brumfeld
Production company:
Ziegler Film GmbH & Co. KG (Berlin + Köln)
in co-production with:
Westdeutscher Rundfunk (WDR) (Köln)
Producer:
Regina Ziegler
Co-Producer:
Michael Esser
Producer (TV):
Karin Zahn
Line producer:
Janice Riggs
Associate producer:
Tanja Meding
Unit production manager:
Chris Cares (Los Angeles), Martin Kruppe (Deutschland)
Production supervisor:
Martin Köhler
Shoot:
: Los Angeles
Original distributor:
W-Film Filmproduktion & Filmverleih (Köln)
DVD distributor:
WVG Medien GmbH (Hamburg)
Length:
28 min
Format:
35 mm, 1:1,85
Picture/Sound:
Farbe, Dolby Stereo
Screening:
Uraufführung (DE): 29.10.1999, Hof, Internationale Filmtage;
Aufführung (DE): 06.05.2000, Oberhausen, IFF - Deutscher Wettbewerb;
TV-Erstsendung (DE): 19.01.2001, ARD;
Kinostart (DE): 04.12.2008
Titles
Originaltitel (DE) Can I be Your Bratwurst, Please?
Originaltitel (DE) Erotic Tales Volume 5: Can I Be Your Bratwurst, Please?
Reihentitel (DE GB) Erotic Tales
Versions
Original

Length:
28 min
Format:
35 mm, 1:1,85
Picture/Sound:
Farbe, Dolby Stereo
Screening:
Uraufführung (DE): 29.10.1999, Hof, Internationale Filmtage;
Aufführung (DE): 06.05.2000, Oberhausen, IFF - Deutscher Wettbewerb;
TV-Erstsendung (DE): 19.01.2001, ARD;
Kinostart (DE): 04.12.2008

DVD-Fassung

Originaltitel (DE) :
Erotic Tales Volume 5: Can I Be Your Bratwurst, Please?
Length:
28 min
Format:
DVD
Picture/Sound:
Farbe, Stereo
Rating:
FSK-Prüfung (DE): 09.03.2006, 105504, ab 16 Jahre