Das Fremde in mir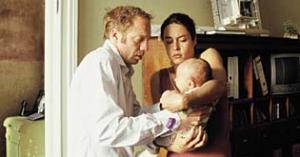 Quelle: Filmfest München 2008
Johann von Bülow, Susanne Wolff
Inhalt
The Stranger in Me
Rebecca and Julian are joyfully expecting their first child. But as soon as the baby is delivered, Rebecca feels an inexplicable fear and helplessness. The tiny being that is so dependent on her is a complete stranger to her. Rebecca′s condition worsens from day to day – to the point that she realizes she is becoming a threat to her child. But besides herself no one seems to notice her dilemma. She is unable to confide in anyone, not even in Julian. For: who speaks about the unspeakable? About emotions that fit into no system? About feelings she has never even heard of?
After Rebecca collapses, only her mother recognizes what her daughter needs: professional help and support in building up the mother-child relationship. Rebecca is admitted to a clinic. She gradually begins to regain her health and to long for her little son. Perhaps the mother instinct is beginning to awaken in her…
Director and co-writer Emily Atef throws the audience into emotional turmoil with her gripping portrait of a mother′s struggle to connect with her child. Emily Atef: "In Germany alone, 80,000 new cases of postpartal depression are reported every year, yet we still know very little about this illness, which is rarely even talked about. The bond to the child is weakened by an illness bearing severe social and personal repercussions, even after recovery. I have long been preoccupied with this issue. It moves me. I can′t stop thinking about it."
Source: 59. Internationale Filmfestspiele Berlin (Catalogue)
Credits
All Credits
Director:
Emily Atef
Assistant director:
David Möhring
Script supervisor:
Josune Aparico
Screenplay:
Emily Atef, Esther Bernstorff
Director of photography:
Henner Besuch
Assistant camera:
Ricarda Hibbeln
Still photography:
Marcus Schädel
Lighting design:
Luciano Cervio
Set design:
Annette Lofy (Szenenbild)
Property master:
Julia König
Stand-by props:
Marcin Bujski
Make-up artist:
Ljiljana Müller
Costume design:
Anja Niehaus
Editing:
Beatrice Babin
Sound design:
Kai Storck
Sound:
Jacob Ilgner
Sound assistant:
Bilge Bingül
Foley artist:
Christoph Oertel
Audio mixing:
Martin Steyer
Casting:
Anja Dihrberg, Bernhard Karl
Music:
Manfred Eicher
Cast:
Susanne Wolff
Rebecca
Johann von Bülow
Julian
Maren Kroymann
Mutter Lore
Hans Diehl
Vater Bernhard
Judith Engel
Elise
Herbert Fritsch
Dr. Börner
Klaus Dieter Pohl
Onkel Theo
Dörte Lyssewski
Psychotherapeutin Agnes
Brigitte Zeh
Katja
Tilla Kratochwil
Polizistin
Production company:
NiKo Film (Berlin)
in co-production with:
Deutsche Film- und Fernsehakademie Berlin GmbH (dffb) (Berlin)
in association with:
Zweites Deutsches Fernsehen (ZDF)/Arte (Mainz)
Producer:
Nicole Gerhards, Hanneke M. van der Tas
Producer (TV):
Annedore von Donop (ZDF), Birgit Kämper (Arte)
Unit production manager:
Valeska Bochow
Location manager:
Olaf Kirbach, Tina-Yvonne Müller, Lena Helling
Production coordinator:
Henry Rehorek
Production manager:
Kerstin Krentz
Shoot:
28.08.2007-07.10.2007: Berlin, Bremen
Original distributor:
Ventura Film GmbH (Thüngersheim)
Funding:
Medienboard Berlin-Brandenburg GmbH (MBB) (Potsdam), nordmedia Fonds GmbH Niedersachsen und Bremen (Hannover + Bremen), Deutscher Filmförderfonds (DFFF) (Berlin)
Length:
2698 m, 99 min
Format:
16mm - Blow-Up 35mm, 1:1,85
Picture/Sound:
Farbe, Dolby SRD
Rating:
FSK-Prüfung (DE): 10.10.2008, 115587, ab 12 Jahre / feiertagsfrei
Screening:
Uraufführung (DE): 22.06.2008, München, Filmfest;
Kinostart (DE): 16.10.2008;
TV-Erstsendung (DE): 01.08.2011, ZDF
Titles
Originaltitel (DE) Das Fremde in mir
Arbeitstitel (DE) MutterLiebe
Versions
Original

Length:
2698 m, 99 min
Format:
16mm - Blow-Up 35mm, 1:1,85
Picture/Sound:
Farbe, Dolby SRD
Rating:
FSK-Prüfung (DE): 10.10.2008, 115587, ab 12 Jahre / feiertagsfrei
Screening:
Uraufführung (DE): 22.06.2008, München, Filmfest;
Kinostart (DE): 16.10.2008;
TV-Erstsendung (DE): 01.08.2011, ZDF
Awards
Studio Hamburg Nachwuchspreis 2009
Beste Regie
IFF Sao Paulo 2008
Bester Film
Beste Darstellerin
Förderpreis Deutscher Film, München 2008
, Beste Darstellerin
Bestandskatalog
Verfügbarkeit
External Links