Das Lächeln der Tiefseefische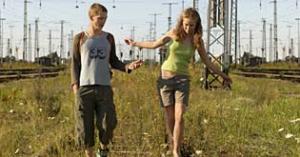 Quelle: Central, DIF, © Ziegler Film Köln GmbH / Central Film Vertriebs GmbH, Foto: Rainer Bajo
Jacob Matschenz, Alice Dwyer
Inhalt
Smile of the Monsterfish

Summertime in Ahlbeck – a bathing resort not far from the Polish border on the Baltic peninsular of Usedom. In a weeks' time Malte will come of age.

Malte lives with his alcoholic father, Dietmar, in a dilapidated old villa that is about to be vacated and completely renovated.
Dietmar has lost his grip on life – ever since the death of his wife and the collapse of socialism in the GDR. Malte works in a fish bar and earns a little extra on the side smuggling cigarettes over the Polish border. Life with his father is extremely oppressive and Malte longs to get away from Usedom. And that is just what he intends to do as soon as he passes his driving test.

And then Malte's sister Hannah suddenly comes back to Ahlbeck, bringing her young son, Lukas, with her. It's the final straw as far as Malte's concerned, who, deciding that life at home is simply too much to bear, promptly decides to move in with his best mate, Pawel. Hannah gets a job at a supermarket and asks Malte to take care of her little boy for a few days.

Round about the same time, Malte falls in love with a 16-year-old holidaymaker named Annika, who is spending a week on Usedom with her mother and sister. This entirely new situation – particularly his relationship to Lukas and Annika – means that Malte will never be the same again.

Source: 55. Internationale Filmfestspiele Berlin (Catalogue)
Credits
All Credits
Director:
Till Endemann
Assistant director:
Ute Kindt
Screenplay:
Till Endemann
Director of photography:
Felix Cramer
Assistant camera:
Jörg Bruhn
Lighting design:
Marc Lubosch
Key grip:
Thorsten Querner
Set design:
Stefan Schönberg
Prop master:
Teresa Casali, Sabine Feldmann
Make-up artist:
Bettina Heyl, Anja Landwehr
Costume design:
Sandra Jones, Martina Hoppe
Editing:
Rebecca Khanide
Assistant editor:
Stephanie Paul
Sound design:
Stephan Colli
Sound:
Patrick Grögler
Audio mixing:
Richard Borowski
Music:
Enis Rotthoff
Music (other):
Mario Lauer (Musik-Überwachung)
Cast:
Jacob Matschenz
Malte
Alice Dwyer
Annika
Adrian Topol
Pawel
Peter Kurth
Dietmar
Victoria Mayer
Hannah
Benjamin Mayer
Lukas
Jessica Richter
Lisa
Bo Hansen
Götz
Tom Jahn
Paule
Fritz Roth
Buttwang
Production company:
Ziegler Film GmbH & Co. KG (Berlin + Köln)
in co-production with:
Westdeutscher Rundfunk (WDR) (Köln), Arte Deutschland TV GmbH (Baden-Baden)
Producer:
Elke Ried
Producer (TV):
Andrea Hanke, Georg Steinert
Producer:
Thorsten Flassnöcker
Unit production manager:
Rainer Angrabeit
Location manager:
Ricarda Goray
Shoot:
20.07.2004-20.08.2004: Usedom, Greifswald und Umgebung
Original distributor:
Central Film Vertriebs GmbH (Berlin)
Funding:
Film- und Medien Stiftung NRW (Düsseldorf)
Length:
88 min
Format:
35mm, 1:1,85
Picture/Sound:
Farbe, Ton
Rating:
FSK-Prüfung: 08.03.2005, 101759, ab 6 Jahre / feiertagsfrei
Screening:
Uraufführung: 14.01.2005, Saarbrücken, Max-Ophüls-Preis;
Kinostart (DE): 07.07.2005;
TV-Erstsendung: 27.04.2007, Arte
Titles
Originaltitel (DE) Das Lächeln der Tiefseefische
Versions
Original

Length:
88 min
Format:
35mm, 1:1,85
Picture/Sound:
Farbe, Ton
Rating:
FSK-Prüfung: 08.03.2005, 101759, ab 6 Jahre / feiertagsfrei
Screening:
Uraufführung: 14.01.2005, Saarbrücken, Max-Ophüls-Preis;
Kinostart (DE): 07.07.2005;
TV-Erstsendung: 27.04.2007, Arte
Verfügbarkeit
Current News