Das wilde Leben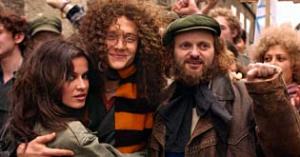 Quelle: Warner, DIF, © Warner Bros.
Szene mit Natalia Avelon, Matthias Schweighöfer, Milan Peschel (vorne, v.l.n.r.)
Inhalt
8 Miles High
Film biography of Uschi Obermaier who became a sex symbol of 1968 student movement in Germany. As a teenager, she practises free love at "Kommune 1", then becomes a top model that makes it on the covers of "Stern" and "Playboy", and is dating superstars such as Mick Jagger and Keith Richards. At the same time, Obermaier experiences the dark side of fame and realises that she wants to live a different life that is free from restraints. When adventurer Dieter Bockhorn, a club owner in the red-light district in Hamburg, falls in love in with Obermaier, the young woman finally seems to have found the partner who shares her goals and dreams.
Credits
All Credits
Director:
Achim Bornhak
Assistant director:
Mario Striehn
Screenplay:
Olaf Kraemer, Achim Bornhak
based on:
Uschi Obermaier (Autobiografie)
Story:
Claus P. Hant, Dagmar Benke, Olaf Kraemer
Director of photography:
Benjamin Dernbecher
Assistant camera:
Helen Sabatzki (2. Stab), Michael Rathgeber (Deutschland), Nina Scheele (Deutschland - 2. Assistenz)
Still photography:
Reiner Bajo
Lighting design:
Christoph Nickel
Set design:
Eduard Krajewski (Szenenbild), T. P. Abid
Prop master:
Sonia Möginger, Hayo Wolfram
Make-up artist:
Lena Lazzarotto, Heike Merker
Costume design:
Petra Kray
Editing:
Peter Przygodda, Sebastian Schultz
Sound editor:
Philipp Sellier (Geräusche)
Sound design:
André Bendocchi-Alves, Claudia Enzmann
Sound:
Gunnar Voigt
Sound assistant:
Sebastian Riegel
Foley artist:
Joern Poetzl
Audio mixing:
Michael Kranz
Casting:
Kanchan Ghosh, Silke Koch, Karen Wendland, Suse Marquardt
Music:
Alexander Hacke
Cast:
Natalia Avelon
Uschi Obermaier
Matthias Schweighöfer
Rainer Langhans
David Scheller
Dieter Bockhorn
Victor Norén
Mick Jagger
Alexander Scheer
Keith Richards
Stefan Sieweke
Charly Watts
Valerie Lasserre
Angel
Sebastian Stielke
Journalist
Oliver Binge
1. Demonstrant
Martin Koch
2. Demonstrant
Production company:
Neue Bioskop Film Produktions & Vertriebs GmbH (München)
in co-production with:
Studio Babelsberg Motion Pictures GmbH (Potsdam-Babelsberg), Babelsberg Film GmbH (Potsdam-Babelsberg), H & V Entertainment GmbH (München-Geiselgasteig), Senator Film Produktion GmbH (Berlin), B.A. Filmproduktion GmbH (München), TV 60 Filmproduktion GmbH (München), Kinowelt Filmproduktion GmbH (Leipzig), Munich Animation Film GmbH (München)
Producer:
Eberhard Junkersdorf, Dietmar Güntsche
Unit production manager:
Philip Evenkamp, Ralph Brosche, Dileep Singh Rathore
Production assistant:
Jona Wirbeleit
Shoot:
12.2005-04.2006: Hamburg, Berlin, London, Paris, Goa, Indien; Bavaria-Atelier München-Geiselgasteig
Original distributor:
Warner Bros. Pictures Germany GmbH (Hamburg)
Funding:
FilmFernsehFonds Bayern GmbH (FFFB) (München), Medienboard Berlin-Brandenburg GmbH (MBB) (Potsdam), Mitteldeutsche Medienförderung GmbH (MDM) (Leipzig), Filmförderungsanstalt (FFA) (Berlin), Beauftragte/r der Bundesregierung für Kultur und Medien -Filmförderung- (Berlin), Media Programm der EU (Brüssel)
Length:
3112 m, 114 min
Format:
35mm, 1:2,35
Picture/Sound:
Farbe, Dolby
Rating:
FSK-Prüfung: 11.01.2007, 108755, ab 12 Jahre / feiertagsfrei
Screening:
Kinostart (DE): 01.02.2007;
TV-Erstsendung (DE): 03.06.2010, Sat.1
Titles
Originaltitel (DE) Das wilde Leben
Arbeitstitel (DE) Eight Miles High
Versions
Original

Length:
3112 m, 114 min
Format:
35mm, 1:2,35
Picture/Sound:
Farbe, Dolby
Rating:
FSK-Prüfung: 11.01.2007, 108755, ab 12 Jahre / feiertagsfrei
Screening:
Kinostart (DE): 01.02.2007;
TV-Erstsendung (DE): 03.06.2010, Sat.1
Awards
FBW 2007
Prädikat: besonders wertvoll
Verfügbarkeit
Videos
Materials
External Links