Die Hamburger Krankheit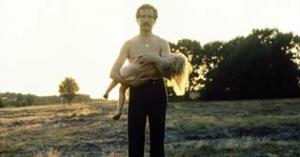 Quelle: Kinowelt Home Entertainment
Szene aus "Die Hamburger Krankheit"
Inhalt
The Hamburg Syndrome

As scientists discuss the merits of prolonging life at Hamburg′s congress centre, a dangerous disease is spreading and threatens the city. Everybody who gets infected becomes mad and finally dies. The authorities panic and react to the disease by declaring a useless state of emergency. Furthermore, the vaccination that is handed out in large amounts, does seem to rather stabilize the virus instead of destroying it. A small group of infected people manages to escape from quarantine and to flee to a small farm in the Bavarian hills to wait for the epidemic to end.
Credits
All Credits
| | |
| --- | --- |
| Director: | Peter Fleischmann |
| Assistant director: | Michael Mertineit, Christa Ritter, Beate Bach |
| Script supervisor: | Christa Ritter |
| Screenplay: | Peter Fleischmann, Roland Topor, Otto Jägersberg |
| Director of photography: | Colin Mounier |
| Assistant camera: | Heinz Menschik, Werner Stumpf |
| Still photography: | Günter Zint |
| Prop master: | Luigi De Luca |
| Make-up artist: | Karin Gutberlet |
| Costume design: | Sophie von Plessen |
| Editing: | Susan Zinowsky |
| Assistant editor: | Catherine Zins, Solange Michoulier |
| Sound: | Yves Zlotnika, Karl-Heinz Frank, Paul Schöler |
| Sound assistant: | Gérard Loupias, Mike Le Mare, Mike La Mere |
| Audio mixing: | Karl-Heinz Frank |
| Music: | Jean Michel Jarre, Erich Ferstl (1. Fassung) |
| | |
| Cast: | |
| Helmut Griem | Sebastian |
| Carline Seiser | Ulrike |
| Ulrich Wildgruber | Heribert |
| Fernando Arrabal | Ottokar |
| Rainer Langhans | Alexander |
| Tilo Prückner | Fritz |
| Romy Haag | Carola |
| Evelyn Künneke | Wirtin |
| Leopold Hainisch | Professor Placek |
| Rosel Zech | Dr. Hamm |
| | |
| Production company: | Hallelujah-Film GmbH (München), Terra-Filmkunst GmbH (München), Coleidon-Film GmbH & Co. KG (München), Bioskop-Film GmbH & Co. Produktionsteam KG (München), Zweites Deutsches Fernsehen (ZDF) (Mainz), Société Nouvelle de Doublage (Paris) |
| Producer: | Peter Fleischmann (Gesamtleitung) |
| Co-Producer: | Michel Gast, Lothar H. Krischer |
| Producer (TV): | Willi Segler |
| Line producer: | Felix Hock |
| Unit production manager: | Henri Xhonneux |
| Location manager: | Brigitte Streuber, Hans Hutter, Wolfgang von Giese |
| Production manager: | Inka Buss, Irma Rotsch |
| Shoot: | 06.1978-10.1978: Hamburg, Kirschgellersen, Lüneburg, Fulda, Altrhein, München, Umgebung des Wilden Kaisers |
| Original distributor: | Filmverlag der Autoren GmbH & Co. Vertriebs KG (München) |
| Funding: | Filmförderungsanstalt (FFA) (Berlin) |
| Length: | 3215 m, 118 min |
| Format: | 35mm, 1:1,66 |
| Picture/Sound: | Eastmancolor, Ton |
| Rating: | FSK-Prüfung (DE): 31.10.1979, 51101, ab 12 Jahre / feiertagsfrei |
Titles
Originaltitel (DE) Die Hamburger Krankheit
Weiterer Titel (FR) La maladie d'Hambourg
Versions
Original

Length:
3215 m, 118 min
Format:
35mm, 1:1,66
Picture/Sound:
Eastmancolor, Ton
Rating:
FSK-Prüfung (DE): 31.10.1979, 51101, ab 12 Jahre / feiertagsfrei

Prüffassung

Length:
3450 m, 126 min
Bestandskatalog
Verfügbarkeit
Materials