Dinosaurier - Gegen uns seht ihr alt aus!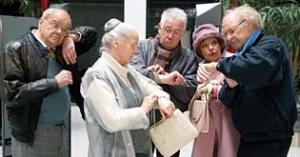 Quelle: Constantin, DIF, © 2009 Constantin Film Verleih GmbH
Walter Giller, Eva-Maria Hagen, Horst Pinnow, Nadja Tiller, Ezard Haußmann (v.l.n.r.)
Inhalt
In his tribute to Bernhard Sinkel′s classic film "Lina Braake", director Leander Haußmann tells the story of old-timer Johann Schneider who falls in love with Lena Braake, a woman of the same age. Lena, a good, honest person, has lost her house to the vile practice of the young Banker Tobias Hartmann. Together with Johann who has always been considered to have behavioral problems and who possesses some criminal energy and his gang of retirees, Lena now schemes a dare-devil plan to get her house back. But first and foremost, the seniors have to be attentive of Piretti, the retirement home′s warden, who strictly but unsuccessfully insists that they adhere to the rules of the retirement home. Against all odds, the "seniors" start their endeavor – and prove the "youngsters" that they are still full of wit and vital energy.
Credits
All Credits
Director:
Leander Haußmann
Assistant director:
Benedict Hoermann
Screenplay:
Marc Kudlow
based on:
Bernhard Sinkel (Film - Lina Braake -)
Director of photography:
Hagen Bogdanski
Assistant camera:
Johnny Feurer, Andrés Lizana Prado
Steadycam operator:
Robert Patzelt
Optical effects:
Adolf Wojtinek, Michael Apling
Still photography:
Stephan Rabold
Lighting design:
Janosch Voss
Gaffer:
David Horn, Kay Kirchhoff
Key grip:
Theo Krönke, Glenn König
Set dresser:
Petra Albert (Dekorateur), Julia Roeske
Set design:
Udo Kramer (Szenenbild)
Property master:
Alexis Teller
Construction manager:
Alexander Karl Briegel, Christoph Baumstieger
Make-up artist:
Katharina Nädelin, Kitty Kratschke, Stefanie Wolf
Costume design:
Steffi Bruhn
Costumes:
Elisabeth Kesten
Editing:
Peter R. Adam
Sound design:
Heiko Müller
Sound:
Roland Winke
Sound assistant:
Hendrik Lühdorff
Audio mixing:
Tschangis Chahrokh
Stunts:
Asuka Tovazzi, Zoltan Toth
Casting:
An Dorthe Braker
Music:
James Last
Cast:
Eva-Maria Hagen
Lena Braake
Ezard Haußmann
Johann Schneider
Walter Giller
Siegfried
Nadja Tiller
Hildchen
Horst Pinnow
Rolf
Daniel Brühl
Tobias Hardmann
Tom Gerhardt
H.P. Piretti
Ralf Wolter
Peter
Heinz Meier
Bertram Kubitschek
Ingrid van Bergen
Frau Heimes
Production company:
Constantin Film GmbH (München)
in co-production with:
Film & Entertainment VIP Medienfonds 4 GmbH & Co. KG (München)
Producer:
Herman Weigel, Oliver Berben
Executive producer:
Martin Moszkowicz
Line producer:
Bernhard Thür
Unit production manager:
Mark Nolting
Location manager:
Philipp Klausing (Motiv), Sandro Silva (Set)
Production coordinator:
Jessica Schulze
Production manager:
Ursula Gaida
Shoot:
17.03.2009-07.05.2009: Berlin
Original distributor:
Constantin Film Verleih GmbH (München)
Funding:
FilmFernsehFonds Bayern GmbH (FFFB) (München), Filmförderungsanstalt (FFA) (Berlin), Deutscher Filmförderfonds (DFFF) (Berlin), Medienboard Berlin-Brandenburg GmbH (MBB) (Potsdam)
Length:
2837 m, 104 min
Format:
35mm, 1:1,85
Picture/Sound:
Farbe, Dolby
Rating:
FSK-Prüfung (DE): 20.11.2009, 120638, ab 6 Jahre / feiertagsfrei
Screening:
Uraufführung (DE): 16.12.2009, Berlin;
Kinostart (DE): 24.12.2009
Titles
Originaltitel (DE) Dinosaurier - Gegen uns seht ihr alt aus!
Versions
Original

Length:
2837 m, 104 min
Format:
35mm, 1:1,85
Picture/Sound:
Farbe, Dolby
Rating:
FSK-Prüfung (DE): 20.11.2009, 120638, ab 6 Jahre / feiertagsfrei
Screening:
Uraufführung (DE): 16.12.2009, Berlin;
Kinostart (DE): 24.12.2009
Awards
FBW 2009
Prädikat: wertvoll
Verfügbarkeit
Materials
External Links