Gangs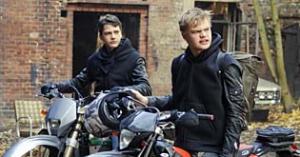 Quelle: Walt Disney, DIF, © Buena Vista International
Jimi Blue Ochsenknecht, Wilson Gonzalez Ochsenknecht (v.l.n.r.)
Inhalt
The "Rox" are a feared gang of young rockers who have a strong lock on their Berlin district. At present, their leader Chris is in prison – while his younger brother Flo is in charge of the gang. The two brothers are inseparable and always stick together. But then Flo meets the pretty girl Sofie. The rowdy ghetto rocker and the well-read young woman from an upper-class Berlin family develop a tender love relationship. When Chris is released from prison and starts to plan a dangerous robbery to settle his debts with another gang leader, Flo is confronted with a tough moral conflict because after the robbery fails, Chris demands of his brother to take advantage of Sofie for his purposes.
Credits
All Credits
Director:
Rainer Matsutani
Assistant director:
Jochen Gosch, Gregor Stitzl, Korbinian Wandinger
Script supervisor:
Gabriele Mattner (Continuity)
Screenplay:
Sebastian Wehlings, Peer Klehmet
Director of photography:
Clemens Messow
Assistant camera:
Viviane Bendjus, Xaver Kringer
Steadycam operator:
Jörg Widmer, Patrick D. Kaethner
Optical effects:
Hilmar Petersen
Still photography:
Maria Krumwiede
Lighting design:
Klaus Bieling, Uwe Greiner
Gaffer:
Alexander Zeihn, Michael Rieck
Key grip:
Klaus Niemeier, Marc Gensel
Set design:
Carola Gauster (Szenenbild)
Property master:
Moritz Heinlin
Stand-by props:
Thorsten Kuhne
Make-up artist:
Peter Bour, Grit Kosse
Costume design:
Tatjana Brecht-Bergen, Mika Braun
Costumes:
Annina Goldfuß, Isabell von Maltzahn
Editing:
Marco Pav D'Auria
Sound:
Albrecht Harms
Sound assistant:
Till Ulrich
Foley artist:
Tschangis Chahrokh
Audio mixing:
Christian Bischoff
Stunts:
Silke Winter, Oliver Juhrs
Casting:
Uwe Bünker
Music:
Wolfram de Marco
Cast:
Jimi Blue Ochsenknecht
Flo
Aaron Le
Otto
Wilson Gonzalez Ochsenknecht
Chris
Emilia Schüle
Sofie
Johannes Hitzblech
Arzt
Frank Roder
Bertrand
Ercan Özcelik
Edas Vater
Martin Becker
Touristen-Vater
Michael Keseroglu
Rambo
Kai-Michael Müller
Nuri
Production company:
Sam Film GmbH (München)
Producer:
Ewa Karlström, Andreas Ulmke-Smeaton
Line producer:
Karlheinz Ganzer
Location manager:
Christian Held, Carola Freitag (Motive), Ute Scharffenberg (Set), Andreas Friz (Motiv)
Production assistant:
Ole Wilken
Shoot:
16.09.2008-10.11.2008: Berlin und Umgebung
Original distributor:
Walt Disney Studios Motion Pictures Germany GmbH (München)
Funding:
Deutscher Filmförderfonds (DFFF) (Berlin), FilmFernsehFonds Bayern GmbH (FFFB) (München), Medienboard Berlin-Brandenburg GmbH (MBB) (Potsdam), Filmförderungsanstalt (FFA) (Berlin)
Length:
2467 m, 90 min
Format:
35 mm, 1:1,85
Picture/Sound:
Farbe, Dolby SRD
Rating:
FSK-Prüfung (DE): 20.07.2009, 118844, ab 12 Jahre / feiertagsfrei
Screening:
Erstaufführung (CH): 27.09.2009, Zürich, Film Festival;
Kinostart (DE): 01.10.2009
Titles
Originaltitel (DE) Gangs
Arbeitstitel (DE) Rox!
Versions
Original

Length:
2467 m, 90 min
Format:
35 mm, 1:1,85
Picture/Sound:
Farbe, Dolby SRD
Rating:
FSK-Prüfung (DE): 20.07.2009, 118844, ab 12 Jahre / feiertagsfrei
Screening:
Erstaufführung (CH): 27.09.2009, Zürich, Film Festival;
Kinostart (DE): 01.10.2009
Awards
FBW 2009
Prädikat: wertvoll
Verfügbarkeit
Videos
Materials
External Links