Henri 4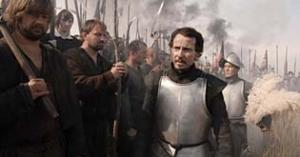 Quelle: Central Film, DIF, © Ziegler Film GmbH & Co. KG, Foto: Reiner Bajo, Berlin
Szene mit Julien Boisselier (vorne)
Inhalt
Henry of Navarre
Sixteenth-century France. Europe's most powerful state is being torn apart by religious wars. On the one side is the Catholic majority which holds sway over the Parisian court and, on the other, are the Protestants, known as Huguenots. Paris is ruled by Catherine de Medici who is determined to make use of her power to retain the throne for her three sons. But, in the south of France, in the tiny kingdom of Navarre, an opponent is emerging about whose existence she has, as yet, no knowledge: Henry of Navarre.
Henry reaches adulthood on the battlefields. He receives a letter at his camp. Catherine de Medici wishes to marry her daughter, Marguerite, to him so that Huguenots and Catholics can finally coexist peacefully. His mother urges Henry to accept the offer: Catharina's sons suffer from a mysterious blood disease; if they were to die then Henry would become king of France. The marriage of Henry and Marguerite ends in the St. Bartholemew's Day massacre, a bloodbath during which thirty thousand Huguenots are slaughtered. Henry survives, but is held prisoner in the Louvre.
Marguerite is in love with the man that she was made to marry for reasons of state, but when Henry learns that she was aware of her mother's murderous plan he rejects her. Henry escapes, rejoins the Protestant forces and continues the bloody religious conflict with the intention of founding a state based on humanist thought. And then he meets the love of his life: Gabrielle d' Estrées.
When Henry's brother-in-law, Henry III, Catherine de Medici's last son, is murdered he becomes the new king – Henry IV. Marguerite lives in hope once more. But this sets the wheels in motion for a series of betrayals and intrigues.
Source: 60. Internationale Filmfestspiele Berlin (Catalogue)
Credits
All Credits
Director:
Jo Baier
Assistant director:
Eva Kadaňková, Nicole Front
Screenplay:
Jo Baier, Cooky Ziesche (Co-Autorin)
based on:
Heinrich Mann (Romane "Die Jugend des Königs Henri Quatre", "Die Vollendung des Königs Henri Quatre")
Director of photography:
Gernot Roll
Steadycam operator:
Michael Praun
Optical effects:
Denis Behnke (VFX)
Still photography:
Reiner Bajo
Lighting design:
Harald Hauschildt
Production design:
Klaus-Peter Platten, Christian Strang
Set design:
Michael Fechner (Set Decorator), Isabel von Forster (Set Decorator)
Property master:
Markus Bendler, Axel Kahnt
Stand-by props:
Eckhart Friz
Make-up artist:
Gerhard Zeiss, René Jordan, Ulrich Ritter, Barbara Kichi, Linda Dvorakova, Gabriela Polakova
Costume design:
Barbara Jäger, Gerhard Gollnhofer, Ute Hofinger
Hairdresser:
Linda Dvorakova, Gabriela Polakova
Editing:
Alexander Berner
Assistant editor:
Ana de Mier y Ortuño
Sound editor:
Christoph von Schönburg
Sound design:
Friedrich M. Dosch
Sound:
Gunnar Voigt
Sound assistant:
Sebastian Riegel
Casting:
Eric Benz
Cast:
Julien Boisselier
Henri IV.
Joachim Król
Agrippa
Andreas Schmidt
Du Bartas
Roger Casamajor
Rosny
Armelle Deutsch
Margot
Chloé Stefani
Gabrielle
Sven Pippig
Beauvoise
Sandra Hüller
Catherine
Hannelore Hoger
Katharina de Medici
Ulrich Noethen
Karl IX.
Production company:
Ziegler Film GmbH & Co. KG (Berlin + Köln)
in co-production with:
Geteve (Paris), Institut del Cinema Català (Barcelona), Wega Filmproduktionsgesellschaft mbH (Wien), Westdeutscher Rundfunk (WDR) (Köln), Bayerischer Rundfunk (BR) (München), Südwestrundfunk (SWR) (Stuttgart), Norddeutscher Rundfunk (NDR) (Hamburg), Mitteldeutscher Rundfunk (MDR) (Leipzig), Degeto Film GmbH (Frankfurt am Main), Österreichischer Rundfunk (ORF) (Wien), France 2 (Paris), MMC Independent GmbH (Köln), Antonio Exacoustos B.A. Produktion GmbH der ARRI Group (München)
Producer:
Regina Ziegler
Co-Producer:
Christian Charret (Geteve), Veit Heiduschka (Wega Film), Joan Antoni González (ICC), Ralf Schmitz (MMC), Franz Kraus, Antonio Exacoustos jr., Bastie Griese
Producer (TV):
Gebhard Henke (WDR), Frank Tönsmann (WDR), Bettina Reitz (BR), Bettina Ricklefs (BR), Carl Bergengruen (SWR), Doris J. Heinze (Norddeutscher Rundfunk [NDR]), Jana Brandt (MDR), Jörn Klamroth (Degeto), Heinrich Mis (ORF), Ernst Petz (ORF), Jean Bigot (France 2)
Executive producer:
Hartmut Köhler
Producer:
Eric Benz (Assistenz)
Line producer:
Jürgen Tröster
Associate producer:
Bastie Griese, Ralf Schmitz
Unit production manager:
Cornelia Schmidt-Matthiesen, Leila Kessler
Location manager:
Michael Stritzel, Benno Pastewka (Motiv)
Production coordinator:
Ursula Rohwedder
Pre-production:
Benno Pastewka (Location Scout)
Shoot:
01.09.2008-30.11.2008: Frankreich, Köln und Umgebung
Funding:
Film- und Medien Stiftung NRW (Düsseldorf), Medienboard Berlin-Brandenburg GmbH (MBB) (Potsdam), FilmFernsehFonds Bayern GmbH (FFFB) (München), Filmförderungsanstalt (FFA) (Berlin), MFG Medien- und Filmgesellschaft Baden-Württemberg mbH (Stuttgart), Deutscher Filmförderfonds (DFFF) (Berlin)
Length:
4233 m, 154 min
Format:
35mm, 1:2,35
Picture/Sound:
Farbe, Dolby
Rating:
FSK-Prüfung (DE): 02.12.2009, 120642, ab 12 Jahre/feiertagsfrei
Screening:
Uraufführung (DE): 13.02.2010, Berlin, IFF - Berlinale Spezial;
Kinostart (DE): 04.03.2010
Titles
Originaltitel (DE) Henri 4
Weiterer Titel Henri Quatre
Schreibvariante (DE) Henri IV.
Versions
Original

Length:
4233 m, 154 min
Format:
35mm, 1:2,35
Picture/Sound:
Farbe, Dolby
Rating:
FSK-Prüfung (DE): 02.12.2009, 120642, ab 12 Jahre/feiertagsfrei
Screening:
Uraufführung (DE): 13.02.2010, Berlin, IFF - Berlinale Spezial;
Kinostart (DE): 04.03.2010
Verfügbarkeit
Videos
Materials