Im Winter ein Jahr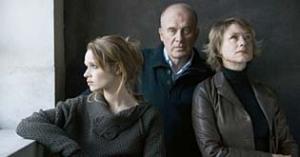 Quelle: Constantin, DIF, © Constantin Film Verleih
Karoline Herfurth, Hanns Zischler, Corinna Harfouch (v.l.n.r.)
Inhalt
A Year Ago in Winter
The life of the seemingly intact family of Eliane and Thomas Richter suddenly collapses when their 19-year-old son Alexander is killed in a tragic accident. To help herself get over the loss the deeply distraught mother commissions the famous artist Max Hollander to paint a portrait of Alexander based on photographs of the boy, together with his sister Lilli. Lilli herself has her own problems. A talented 22-year-old dance and voice student, she loses the chance to dance a principal role when she gets in a quarrel with her teacher. She also has problems with her boyfriend, an artist she clings to a bit too much. And finally she thinks her mother′s plan to hang her brother as "decoration" on the wall is ridiculous.
Through the encounter with the much older artist Lilli begins to win back her self-confidence. Max is drawn ever deeper into the complex, emotionally charged network of the family. Personal losses in the painter′s own life have left painful traces in him too. Together Max and Lilli begin to come to grips with their grievous pasts.
In her new film Caroline Link delves into the moving inner lives of the figures, painting a complex family portrait as well as a tension-filled psychograph of an intensive and unusual encounter.
Source: 59. Internationale Filmfestspiele Berlin (Catalogue)
Credits
All Credits
Director:
Caroline Link
Assistant director:
Christopher Doll
Script supervisor:
Carmen Stuellenberg
Screenplay:
Caroline Link
based on:
Scott Campbell (Roman "Aftermath")
Director of photography:
Bella Halben
Assistant camera:
Daniel Leibold, Niv Abootalebi
Steadycam operator:
Markus Eckert
Lighting design:
Michael >Rossi< Röska
Set design:
Susann Bieling (Szenenbild)
Property master:
Hayo Wolfram
Stand-by props:
Babett Pönisch
Make-up artist:
Nannie Gebhardt-Seele, Stephanie Hilke
Costume design:
Barbara Grupp
Editing:
Patricia Rommel
Sound design:
Christoph von Schönburg
Sound:
Roman Schwartz
Sound assistant:
Serge Timmons
Foley artist:
Joern Poetzl
Audio mixing:
Michael Kranz
Casting:
An Dorthe Braker, Stefany Pollmann
Music:
Niki Reiser, Martin Stock (Tanzszenen)
Cast:
Karoline Herfurth
Lilli Richter
Josef Bierbichler
Maler Max Hollander
Corinna Harfouch
Mutter Eliane Richter
Hanns Zischler
Thomas Richter
Cyril Sjöström
Alexander Richter
Mišel Matičević
Aldo
Daniel Berini
Tom
Franz Dinda
Johannes
Karin Boyd
Renée Walters
Jacob Matschenz
Tobias Hollander
Production company:
Bavaria Filmverleih- und Produktions GmbH (München-Geiselgasteig), Constantin Film Produktion GmbH (München)
in co-production with:
Bayerischer Rundfunk (BR) (München), ARD Degeto Film (Frankfurt am Main)
Producer:
Uschi Reich, Martin Moszkowicz
Producer (TV):
Bettina Reitz (BR), Hans Wolfgang Jurgan (ARD Degeto)
Executive producer:
Robert W. Cort, Scarlett Lacey
Unit production manager:
Oliver Nommsen
Location manager:
Jan-Patrick Wosien
Shoot:
10.07.2007-11.09.2007: München, Krams (Brandenburg)
Original distributor:
Constantin Film Verleih GmbH (München)
Funding:
FilmFernsehFonds Bayern GmbH (FFFB) (München), Medienboard Berlin-Brandenburg GmbH (MBB) (Potsdam), Filmförderungsanstalt (FFA) (Berlin), Deutscher Filmförderfonds (DFFF) (Berlin)
Length:
3510 m, 128 min
Format:
35mm, 1:2,35
Picture/Sound:
Farbe, Dolby SRD
Rating:
FSK-Prüfung (De): 01.08.2008, 114828, ab 12 Jahre / feiertagsfrei
Screening:
Uraufführung (CA): 09.09.2008, Toronto, IFF;
Erstaufführung (DE): 21.10.2008, Hof, Internationale Filmtage;
Kinostart (DE): 13.11.2008
Titles
Originaltitel (DE) Im Winter ein Jahr
Versions
Original

Length:
3510 m, 128 min
Format:
35mm, 1:2,35
Picture/Sound:
Farbe, Dolby SRD
Rating:
FSK-Prüfung (De): 01.08.2008, 114828, ab 12 Jahre / feiertagsfrei
Screening:
Uraufführung (CA): 09.09.2008, Toronto, IFF;
Erstaufführung (DE): 21.10.2008, Hof, Internationale Filmtage;
Kinostart (DE): 13.11.2008
Awards
Giffoni Film Festival 2009
Crystal Gryphon Campania Bank Award , Sektion 16+
Deutscher Filmpreis 2009
Lola in Silber, Bester Spielfilm
Lola, Beste Filmmusik
Bayerischer Filmpreis 2009
Beste Regie
Beste Nachwuchsdarstellerin
Verfügbarkeit
Videos
Materials