Mord ist mein Geschäft, Liebling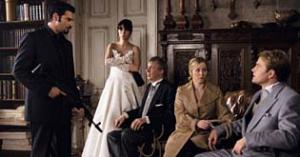 Quelle: Warner Bros, DIF, © Warner Bros.
Rick Kavanian, Nora Tschirner, Ludger Pistor, Jasmin Schwiers, Janek Rieke (v.l.n.r.)
Inhalt
Toni Ricardelli is a stone-cold hitman – a true master in his field. But despite his success in his job, Toni is missing a woman that loves him. But on a job, he finally seems to have found the right one. On behalf of a mafia clan, Toni has just killed the mafioso Enrico to prevent him from publishing his memoirs when he runs into the clumsy publishing company employee Julia. For Toni, it is love on first sight. To get to know her, the hitman has only one chance: He has to pretend to be Enrico and to offer her Enrico′s memoirs for publication. Thus, he not only makes Julia′s fiancé Bob jealous but also becomes the target of his mafia clients.
Credits
All Credits
| | |
| --- | --- |
| Director: | Sebastian Niemann |
| Assistant director: | Paul Milbers |
| Script supervisor: | Daniela Lapp |
| Screenplay: | Dirk Ahner, Sebastian Niemann |
| Director of photography: | Gerhard Schirlo |
| Camera operator: | Jens Dittmar |
| Assistant camera: | Dariusz Brunzel, Bernd Deuber |
| Clapper loader: | Daniel Goldmann, Karl Keil |
| Optical effects: | Stefan Tischner (Überwachung) |
| Still photography: | Conny Klein |
| Lighting design: | Thomas Krückl, Frederico Canibus (Italien) |
| Key grip: | Max Daiminger, Simon Arevado Saint Jean |
| Production design: | Matthias Müsse |
| Set design: | Adriana Luna (Art Director), Roberta Casale (Art Director in Italien), Tilman Lasch (Set Decorator), Astrid Poeschke (Set Design) |
| Storyboard: | Julia Smith |
| Property master: | Christoph Kettenring, Mauro Mati (Italien) |
| Stand-by props: | David Thummerer, Tom Scheele |
| Title: | Lutz Lemke, Andy Aleksis |
| Make-up artist: | Georg Korpás (Leitung), Irina Tübbecke-Bechem, Mieke Willaert |
| Costume design: | Janne Birck, Elisabeth Weißkopf (Assistenz) |
| Editing: | Moune Barius |
| Sound design: | Alexander Saal |
| Sound: | Michael Hemmerling |
| Sound assistant: | Marc Zeunert |
| Synch sound: | Christian Bruckmair, Florian Semmelroch (Assistenz) |
| Foley artist: | Joern Poetzl |
| Audio mixing: | Tschangis Chahrokh |
| Stunt co-ordinator: | Gerd Grzesczak |
| Casting: | Emrah Ertem |
| Music: | Egon Riedel, Klaus Frers (Überwachung), Thomas Binar (Überwachung) |
| Conductor: | Ariel Zuckermann |
| Music performer: | Georgisches Kammerorchester |
| Vocals: | Dean Martin (Archivmaterial) |
| | |
| Cast: | |
| Rick Kavanian | Toni Ricardelli |
| Nora Tschirner | Julia Steffens |
| Christian Tramitz | Helmut Münchinger |
| Janek Rieke | Bob Kimbell |
| Bud Spencer | Pepe |
| Axel Stein | Hotelpage Dirk |
| Wolf Roth | Paolo Rossi |
| Franco Nero | Enrico Puzzo |
| Günther Kaufmann | Mafiaboss Salvatore Marino |
| Ludger Pistor | Dr. Gruber |
| | |
| Production company: | Rat Pack Filmproduktion GmbH (München) |
| in co-production with: | Warner Bros. Filmproduktion GmbH (Hamburg), B.A. Filmproduktion GmbH (München), Babelsberg Film GmbH (Potsdam-Babelsberg), Beta-Film (München), Erfttal Film- und Fernsehproduktion GmbH & Co KG (Siegburg) |
| Producer: | Christian Becker |
| Co-Producer: | Klaus Dohle, Henning Molfenter, Christoph Fisser, Carl L. Woebcken, Franz Kraus, Antonio Exacoustos jr., Eric Welbers |
| Executive producer: | Sonja B. Zimmer |
| Producer: | Dany Geys, Lena Schömann |
| Line producer: | Peter Schiller, Bernhard Thür |
| Unit production manager: | George Hiller |
| Location manager: | Natalie Clausen, Christian Dosch, Michele Ottagio (Italien) |
| Production coordinator: | Alessandro Allaria (Italien) |
| Post-production: | Axel Vogelmann (Überwachung) |
| Shoot: | 15.10.2007-16.12.2007: Italien (Santa Margherita, Portofino), Berlin und Umgebung, Potsdam |
| Original distributor: | Warner Bros. Pictures Germany GmbH (Hamburg) |
| Funding: | Medienboard Berlin-Brandenburg GmbH (MBB) (Potsdam), Filmförderungsanstalt (FFA) (Berlin), Deutscher Filmförderfonds (DFFF) (Berlin) |
| Length: | 2979 m, 109 min |
| Format: | 35mm, 1:2,35 |
| Picture/Sound: | Farbe, Dolby Digital |
| Rating: | FSK-Prüfung (DE): 25.11.2008, 115894, ab 12 Jahre / feiertagsfrei |
| Screening: | Kinostart (DE): 26.02.2009 |
Titles
Originaltitel (DE) Mord ist mein Geschäft, Liebling
Versions
Original

Length:
2979 m, 109 min
Format:
35mm, 1:2,35
Picture/Sound:
Farbe, Dolby Digital
Rating:
FSK-Prüfung (DE): 25.11.2008, 115894, ab 12 Jahre / feiertagsfrei
Screening:
Kinostart (DE): 26.02.2009
Verfügbarkeit
Videos
Materials
Current News
External Links