Nimm Dir Dein Leben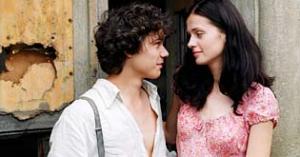 Quelle: Novapool Pictures
Sebastian Urzendowsky, Agnieszka Grochowska
Inhalt
Take Your Life
"Take Your Life", which received the German National Screenplay Award for Thomas Wendrich in 2002, centers on 20-year-old Milan from the village of Dunkelhaeuser on the Polish-German border in Saxony. Milan, a rabbit-hunter and maker of home brew from potatoes, has been brought up without his mother by his tyrannical, alcoholic father in an isolated village peopled only with stubborn unworldly farmers. Into this eccentric world comes a lovesick Polish stranger whose mysterious death sets off a chain of events that rock the foundations of village life. Milan solves the mystery of the past and, using the power of love, manages to free himself from his father and the village...
Source: German Films Service & Marketing GmbH
Credits
All Credits
Director:
Sabine Michel
Screenplay:
Thomas Wendrich
Director of photography:
Jürgen Jürges
Production design:
Wolf Marcus Göppner
Editing:
Anja Nerall
Sound:
Jörg Theil
Music:
Ingo L. Frenzel
Cast:
Sebastian Urzendowsky
Milan
Agnieszka Grochowska
Ilonka
Peter Kurth
Gunter Neusorge
Udo Kroschwald
Manfred Beutel
Marie Gruber
Marlies Beutel
Falk Rockstroh
Kurt Jockel
Astrid Meyerfeldt
Doris Jockel
Eva-Maria Hagen
Annel Schoppe
Juliane Köhler
Städterin
Max Tidof
Städter
Production company:
Egoli Tossell Film AG (Berlin)
in co-production with:
Koppmedia GmbH (Halle), Cine Plus Media Service GmbH & Co. KG (Berlin), Westdeutscher Rundfunk (WDR) (Köln)
Producer:
Judy Tossell
Producer (TV):
Barbara Buhl
Producer:
Marc Wächter
Unit production manager:
Günter Fenner
Shoot:
06.2004-: Groß Grimma, Lausitz
Original distributor:
Novapool Production GmbH (Berlin)
Funding:
Mitteldeutsche Medienförderung GmbH (MDM) (Leipzig), Medienboard Berlin-Brandenburg GmbH (MBB) (Potsdam), Kuratorium Junger Deutscher Film (Wiesbaden), Media Desk Deutschland (Hamburg), Beauftragte/r der Bundesregierung für Kultur und Medien -Filmförderung- (Berlin)
Length:
98 min
Format:
HD Cam - überspielt auf 35mm, 1:1,85
Picture/Sound:
Farbe, Dolby SR
Rating:
FSK-Prüfung: 07.11.2005, 104267, ab 12 Jahre / feiertagsfrei
Screening:
Uraufführung (DE): 28.10.2005, Hof, Internationale Filmtage;
Kinostart (DE): 18.01.2007
Titles
Originaltitel (DE) Nimm Dir Dein Leben
Arbeitstitel (DE) Z.s.z. - Nimm Dir Dein Leben!
Versions
Original

Length:
98 min
Format:
HD Cam - überspielt auf 35mm, 1:1,85
Picture/Sound:
Farbe, Dolby SR
Rating:
FSK-Prüfung: 07.11.2005, 104267, ab 12 Jahre / feiertagsfrei
Screening:
Uraufführung (DE): 28.10.2005, Hof, Internationale Filmtage;
Kinostart (DE): 18.01.2007