Omamamia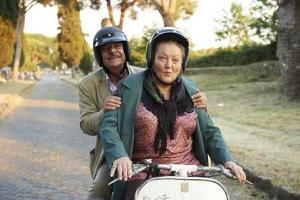 Source: Majestic Filmverleih, DIF, © Majestic / Walter Wehner
Giancarlo Giannini, Marianne Sägebrecht
Inhalt
The fate of Grandma Marguerita is sealed. After the passing of her beloved husband, she is expected to ride off into the sunset, or, in this particular case, into the Sunshine Retirement Home. But before being banished to the realm of walker-pushing oldsters, Marguerita wants to go to Rome and obtain the Pope's
absolution for her sins. And if no one will go with her, she'll go alone!
Her first stop in Rome is granddaughter Martina's place. Her family thinks that Martina is working as an au-pair for a strict Catholic family; in reality, she's living with hard-rock musician Silvio in a run-down flat plastered with obscene graffiti, and working nights as a bartender in a rocker joint. Not surprisingly, she kissed her virginity goodbye a long time ago.
There are many obstacles on the road to salvation, including disabling the Pope with pepper spray … Luckily, Marguerita meets a charming con man, Lorenzo, who saves her from the Vatican dungeons and begins to fall for her. Disaster strikes again, however, when her high-strung daughter Marie arrives in Rome to find her mother in love with a con man, her daughter grown up, and both determined to stay in the Eternal City. And when Marguerita finally tells Marie her big secret, Marie starts to understand why her mother wants a papal blessing so badly …
Source: German Films Service & Marketing GmbH
Credits
All Credits
Director:
Tomy Wigand
Assistant director:
Alexander Stahl
Screenplay:
Dr. Gabriela Sperl, Jane Ainscough
Story:
Claudia Casagrande
Director of photography:
Holly Fink
2nd Camera unit:
Markus Eckert
Steadycam operator:
Markus Eckert
Lighting design:
Michael >Rossi< Röska
Production design:
Patrick Steve Müller
Stand-by props:
Stefanie Gros
Make-up artist:
Anette Keiser, Nannie Gebhardt-Seele
Costume design:
Gioia Raspé
Editing:
Simon Blasi
Sound:
Frank Heidbrink
Casting:
Suse Marquardt, Francesco Vedovati (Italien)
Music:
Martin Todsharow
Cast:
Marianne Sägebrecht
Oma Marguerita
Annette Frier
Marie
Miriam Stein
Martina
Giancarlo Giannini
Lorenzo
Raz Degan
Silvio
Giovanni Esposito
Dino
Jaymes Butler
Priester
Paul Barrett
Joe
Thomas Kylau
Papst Benedict III.
Felix Hellmann
Reinhold
Production company:
sperl productions GmbH (Grünwald), Arden Film (Berlin)
in co-production with:
SevenPictures GmbH (Unterföhring), Erfttal Film- und Fernsehproduktion GmbH & Co KG (Siegburg)
Producer:
Dr. Gabriela Sperl, Andro Steinborn
Co-Producer:
Joachim Kosack, Stefan Gärtner, Klaus Dohle
Producer:
Sophie von Uslar
Location manager:
Lisa Kolodzik, Hans Peter Abts (Set)
Shoot:
05.05.2011-: München, Italien (Rom), Kroatien
Original distributor:
Majestic Filmverleih GmbH (Berlin)
Funding:
Medienboard Berlin-Brandenburg GmbH (MBB) (Potsdam), Bayerischer Bankenfonds (BBF) (München), Filmförderungsanstalt (FFA) (Berlin), FilmFernsehFonds Bayern GmbH (FFFB) (München)
Length:
103 min
Format:
35mm, 1:1,85
Picture/Sound:
Farbe, Dolby
Rating:
FSK-Prüfung (DE): 07.08.2012, 134180, ohne Altersbeschränkung/feiertagsfrei
Screening:
Uraufführung (DE): 26.07.2012, Starnberg, Fünf Seen Filmfestival;
Kinostart (DE): 01.11.2012
Titles
Originaltitel (DE) Omamamia
Arbeitstitel (DE) Oma in Roma
Versions
Original

Length:
103 min
Format:
35mm, 1:1,85
Picture/Sound:
Farbe, Dolby
Rating:
FSK-Prüfung (DE): 07.08.2012, 134180, ohne Altersbeschränkung/feiertagsfrei
Screening:
Uraufführung (DE): 26.07.2012, Starnberg, Fünf Seen Filmfestival;
Kinostart (DE): 01.11.2012
Awards
FBW 2013
Prädikat: wertvoll
Verfügbarkeit
Videos
External Links