Otto's Eleven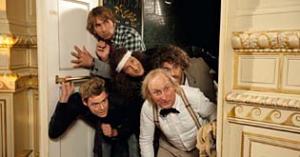 Quelle: Warner Bros., DIF, © 2010 Warner Bros. Ent.
Max Giermann, Arnd Schimkat, Mirco Nontschew, Otto Waalkes, Rick Kavanian (v.l.n.r.)
Inhalt
In his eight feature film, comedian Otto Walkes plays an oddball islander, who has to team up with his friends in order to confront a mischievous art collector. Everything starts out fine on the little island: Painter Otto works on his artful depictions of the seaside, cook Pit is responsible for preparing the obligatory fish, athletic Mike works out the fitness regime and tech freak Artur is keeping contact with the works via computer. When they try to foster their dormant tourist industry with an internet ad, art collector Jean Du Merzac turns out to be the only vacationer. With a mean trick, he chisels an old painting out of Otto. Determined to even the score, the friends work out a spectacular plan to retrieve the precious work of art.
Credits
All Credits
| | |
| --- | --- |
| Director: | Sven Unterwaldt Jr. |
| Assistant director: | Marc Kluge, Ulla Bay Kronenberger |
| Script supervisor: | Jan Birka |
| Screenplay: | Bernd Eilert, Otto Waalkes, Sven Unterwaldt Jr. |
| Director of photography: | Peter von Haller |
| Camera operator: | Armin Golisano |
| Assistant camera: | Jakob von Lenthe |
| Clapper loader: | Philipp Tölke |
| Steadycam operator: | Armin Golisano |
| Optical effects: | Ismat Zaidi |
| Still photography: | Georges Pauly |
| Titles / Opticals: | Martin Zwanzger |
| Lighting design: | Niels Maier |
| Gaffer: | Steffen Ritter |
| Key grip: | Paolo Sanzani, Paolo Sanzani, Maike Maier |
| Production design: | Christian Schäfer |
| Art director: | Thomas Göldner |
| Set dresser: | Vera Carstens, Frank Noack, Amara Heim, Jörg Möhring |
| Set design: | Sonja Winzenried (Set Decorator), Dorothee Weingarten (Assistenz) |
| Property master: | Peter Naguib, Björn Holzhausen |
| Stand-by props: | Lily Kiera |
| Construction manager: | Kurt Woldmann |
| Make-up artist: | Georg Korpás (SFX), Irina Tübbecke-Bechem, Monique Bredow, Dörte Dobkowitz |
| Special make-up effects: | Max Giermann |
| Costume design: | Eveline Stösser |
| Costumes: | Kriszina Schmitz, Urs Dierker |
| Editing: | Stefan Essl |
| Assistant editor: | Toska Baltruschat, Jana Musik |
| Sound editor: | Fabian Schmidt (Dialoge) |
| Sound design: | Nico Krebs |
| Sound: | Benjamin Schubert |
| Sound assistant: | Wolfgang Remé |
| Foley artist: | Roland Platz |
| Special effects: | Roland Tropp |
| Casting: | Emrah Ertem |
| Music: | Karim Sebastian Elias |
| | |
| Cast: | |
| Otto Waalkes | Otto |
| Mirco Nontschew | Mike |
| Rick Kavanian | Pit |
| Max Giermann | Oskar |
| Arnd Schimkat | Arthur |
| Sky du Mont | Jean Du Merzac |
| Stéphanie Berger | Carla Rossdal |
| Dorothea Walda | Tantchen |
| Sara Nuru | Corinna |
| Jennifer Weller | Ling-Lu |
| | |
| Production company: | TransWaalFilm GmbH & Co. KG (Hamburg), Poppular Pictures GmbH (München) |
| in co-production with: | Warner Bros. Filmproduktion GmbH (Hamburg), Zipfelmützenfilm GmbH & Co. KG (Hamburg) |
| Producer: | Otto Waalkes |
| Executive producer: | Mark Popp |
| Line producer: | Sebastian Keerl |
| Unit production manager: | Ingrid Holzapfel |
| Location manager: | Nina Hilzinger, Grit Belitz (Motiv), Michael Belitz (Motiv), Benedikt Bothe (Set), Hans Peter Abts (Set) |
| Post-production: | Fritz Böhm, Christoph Englert, Michael Kranz (Mischung) |
| Shoot: | 14.04.2010-12.06.2010: Berlin, Baden-Baden |
| Original distributor: | Warner Bros. Entertainment GmbH (Hamburg) |
| Funding: | Filmförderungsanstalt (FFA) (Berlin), Medienboard Berlin-Brandenburg GmbH (MBB) (Potsdam) |
| Length: | 2612 m, 95 min |
| Format: | 35mm, 16:9 |
| Picture/Sound: | Farbe, Dolby |
| Rating: | FSK-Prüfung (DE): 12.11.2010, 125190, ohne Altersbeschränkung/feiertagsfrei |
| Screening: | Kinostart (DE): 02.12.2010 |
Titles
Originaltitel (DE) Otto's Eleven
Schreibvariante (DE) Otto`s 11
Schreibvariante (DE) Ottos 11
Schreibvariante (DE) Ottos Eleven
Versions
Original

Length:
2612 m, 95 min
Format:
35mm, 16:9
Picture/Sound:
Farbe, Dolby
Rating:
FSK-Prüfung (DE): 12.11.2010, 125190, ohne Altersbeschränkung/feiertagsfrei
Screening:
Kinostart (DE): 02.12.2010
Awards
FBW 2010
Prädikat: wertvoll