Pingpong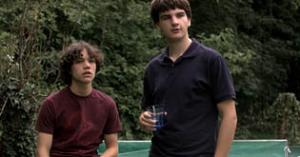 Quelle: Junifilm, DIF, © Junifilm GmbH, Foto: Steffen Junghans
Sebastian Urzendowsky, Clemens Berg (v.l.n.r.)
Inhalt
One summer′s day 16-year-old Paul suddenly turns up uninvited at the
door of his relatives. The last family reunion a few months before was a sad
occasion: Paul′s father had committed suicide, and now Paul seeks refuge in
the seemingly intact world of this middle-class family, which he enjoyed
visiting as a child. At first his Aunt Anna is less than enthusiastic about his
visit, since she is throwing her entire ambition into training her likewise 16-
year-old son Robert, a highly talented pianist, for the entrance examination
at a music school. When Anna′s husband Stefan unexpectedly has to leave
on a business trip, Paul makes himself useful by repairing the weatherworn
swimming pool. Her initial reserve soon turns into affection, and Paul also
feels attracted to her. The nearer the date of Robert′s audition approaches,
the greater the tension between mother and son grows. Anna pulls Paul
over to her side of this conflict and soon has him at her mercy, exploiting
his emotional weakness with no thought to the consequences. When the
situation gets out of control, Paul is driven to an act of desperation.
With this graduation film at the Academy of Film and Television in Potsdam, Matthias Luthardt and his young team have produced a highly professional film that was invited to the Cannes "Semaine de la Critique", where it won the screenplay prize of the French association of authors and composers (SACD) as well as the young critics award.

Source: 57. Internationale Filmfestspiele Berlin (Catalogue)
Credits
All Credits
Director:
Matthias Luthardt
Assistant director:
Oliver Röpke
Script supervisor:
Sarah Judith Mettke
Screenplay:
Meike Hauck, Matthias Luthardt
Script editor:
Helke Misselwitz (Dramaturgische Beratung), Torsten Schulz (Dramaturgische Beratung), Oliver Röpke (Dramaturgische Beratung)
Director of photography:
Christian Marohl
Assistant camera:
Kai Lachmann, Peppa Meißner, Mandy Hofman
Steadycam operator:
Matthias Biber
Still photography:
Steffen Junghans
Titles / Opticals:
Thomas Schmidl
Lighting design:
Robert Bergmann, Tobias Ziegler, Stephan Peters
Key grip:
Ulf Binder
Set design:
Friederike Hagen (Szenenbild), Nancy Vogel (Szenenbild-Assistenz)
Property master:
Arndt Kühne
Stand-by props:
Steffi Heidenreich
Construction manager:
Erik Hennig, Kati Müller, Sven Jung, Maik Thews, Vinzent Hennig
Make-up artist:
Christin Läßig, Birgit Weitzmann
Costume design:
Andrea Schein
Costumes:
Claudia Radowski
Editing:
Florian Miosge
Assistant editor:
Gesa Jäger
Sound:
Jacob Ilgner
Sound assistant:
Benjamin Hörbe
Foley artist:
Günther Röhn
Audio mixing:
Christian Riegel
Casting:
Karen Wendland
Music:
Matthias Petsche
Cast:
Sebastian Urzendowsky
Paul
Marion Mitterhammer
Anna
Clemens Berg
Robert
Falk Rockstroh
Stefan
Arko (DE)
Schumann, der Hund
Production company:
Junifilm GmbH (Berlin)
in co-production with:
Hochschule für Film und Fernsehen »Konrad Wolf« (Potsdam-Babelsberg), Koppmedia GmbH (Halle), Mitteldeutscher Rundfunk (MDR) (Leipzig)
Producer:
Anke Hartwig, Niklas Bäumer
Producer (TV):
Wolfgang Voigt (MDR)
Line producer:
Holger Lochau
Unit production manager:
Ines Just
Location manager:
Philip Pratt, Nathalie van den Bergh (Set-Aufnahmeleitung), Sarah Spindler (Set-Aufnahmeleitung-Assistenz), Manuela Winkler (Set-Aufnahmeleitung-Assistenz)
Shoot:
26.07.2005-25.08.2005: Ballenstedt (Sachsen-Anhalt)
Original distributor:
Arsenal Filmverleih GmbH (Tübingen)
Funding:
Medienboard Berlin-Brandenburg GmbH (MBB) (Potsdam), Mitteldeutsche Medienförderung GmbH (MDM) (Leipzig)
Length:
89 min
Format:
HD Cam - überspielt auf 35mm, 1:1,85
Picture/Sound:
Farbe, Dolby Digital
Rating:
FSK-Prüfung: 02.11.2006, 107985, ab 12 Jahre / feiertagsfrei
Screening:
Uraufführung (FR): 19.06.2005, Cannes, IFF - Woche der Kritik;
Erstaufführung (DE): 17.07.2006, München, Filmfest;
Kinostart (DE): 16.11.2006;
Aufführung (DE): 13.02.2007, Berlin, IFF - German Cinema
Titles
Originaltitel (DE) Pingpong
Versions
Original

Length:
89 min
Format:
HD Cam - überspielt auf 35mm, 1:1,85
Picture/Sound:
Farbe, Dolby Digital
Rating:
FSK-Prüfung: 02.11.2006, 107985, ab 12 Jahre / feiertagsfrei
Screening:
Uraufführung (FR): 19.06.2005, Cannes, IFF - Woche der Kritik;
Erstaufführung (DE): 17.07.2006, München, Filmfest;
Kinostart (DE): 16.11.2006;
Aufführung (DE): 13.02.2007, Berlin, IFF - German Cinema
Awards
Studio Hamburg Nachwuchspreis 2007
Bester Film
Jury der Evangelischen Filmarbeit 2006
Film des Monats Oktober 2006
Filmfest München 2006
Förderpreis Deutscher Film, Drehbuchpreis
IFF Cannes 2006
OFAJ Young Critic Award
Palm Dog 2006 - Lobende Erwähnung
Preis der SACD, Bestes Drehbuch
Bestandskatalog
Verfügbarkeit
Videos
Materials
External Links