Schröders wunderbare Welt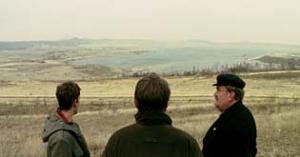 Quelle: filmkombinat Nordost
Szene aus "Schröders wunderbare Welt"
Inhalt
Schroeder′s Wonderful World

By means of a gigantic investment project, Frank Schröder wants to build a tropical holiday paradise for rich retirees in his economically deserted homeland, the tripoint region of Poland, the Czech Republic, and Germany. But the local residents reject his plans without exception – Schröder can′t even put his big plan across to his family. Furthermore, the co-operation with his partners in Poland and the Czech Republic turns out to be rather difficult. Under the pressure of appropriation, mediocrity, and local rivalries, his big co-operation plan is threatened by failure. But Schröder is not going to give up too easily.
Credits
All Credits
Director:
Michael Schorr
Screenplay:
Michael Schorr
Director of photography:
Tanja Trentmann
Still photography:
Nadja Klier
Production design:
Natascha E. Tagwerk
Title:
Moser + Rosie (?)
Make-up artist:
Birgit Weitzmann
Costume design:
Andrea Schein
Editing:
Tina Hillmann
Sound design:
Erik Mischijew
Sound:
Marc Witte
Audio mixing:
Christian Lerch
Casting:
Karen Wendland
Music:
Bernd Begemann
Cast:
Peter Schneider
Frank Schröder
Karl-Fred Müller
Vater Theo Schröder
Gitta Schweighöfer
Anne Schröder
Clemens Deindl
Helmut Schröder
Eva-Maria Hagen
Oma Henriette Wolf
Gerhard Olschewski
Onkel Wigbert Wolf
Michaela Behal
Maria
Jürgen Prochnow
John Gregory
Bernd Begemann
Musiker
Stanisław Jaskulka
Ingenieur Jerzy Krukowski
Production company:
Filmkombinat Nordost GmbH & Co. KG (Berlin)
in co-production with:
Zweites Deutsches Fernsehen (ZDF) (Mainz)
in association with:
Praszka Kinemateka (Prag), Opus Film (Łódź)
Producer:
Jens Körner, Thomas Riedel, Oliver Niemeier
Producer (TV):
Claudia Tronnier
Shoot:
09.2005-11.2005: Görlitz, Zittau, Oberlausitz, Polen, Tschechien
Original distributor:
Alpha Medienkontor GmbH (Weimar)
Funding:
Medienboard Berlin-Brandenburg GmbH (MBB) (Potsdam), Mitteldeutsche Medienförderung GmbH (MDM) (Leipzig), Filmförderungsanstalt (FFA) (Berlin), Media Development (Berlin)
Length:
3199 m, 117 min
Format:
35mm, 1:2,35
Picture/Sound:
Eastmancolor, Dolby Digital
Rating:
FSK-Prüfung: 30.04.2007, 109915, ohne Altersbeschränkung / feiertagsfrei
Screening:
Uraufführung (DE): 17.11.2006, Heidelberg, IFF Mannheim-Heidelberg;
Kinostart (DE): 31.05.2007
Titles
Originaltitel (DE) Schröders wunderbare Welt
Versions
Original

Length:
3199 m, 117 min
Format:
35mm, 1:2,35
Picture/Sound:
Eastmancolor, Dolby Digital
Rating:
FSK-Prüfung: 30.04.2007, 109915, ohne Altersbeschränkung / feiertagsfrei
Screening:
Uraufführung (DE): 17.11.2006, Heidelberg, IFF Mannheim-Heidelberg;
Kinostart (DE): 31.05.2007
Bestandskatalog
Verfügbarkeit
Materials
External Links