Shahada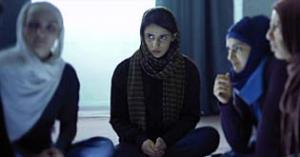 Quelle: Festival des deutschen Films
Szene mit Maryam Zaree (2.v.l.)
Inhalt
Faith
This episodic film revolves around Maryam, Samir and Ismail, three young Muslims living in Berlin. During the course of their stories, their faith, and their value systems begin to falter. The film portrays three people forced by circumstances to find a new path in life and to ask themselves who they are, who they love and what they believe in. Their paths cross at a mosque led by the enlightened Imam, Vedat.
Maryam is Vedat's daughter. She is a fun-loving, westernised young woman. Her at times permissive demeanour is a regular source of conflict between her and her single father, who is deeply worried about his 19-year-old daughter's moral conduct. His fears are well-founded: Maryam has unintentionally fallen pregnant.
Samir is Nigerian. He and his best friend Daniel, a German, both attend Vedat's Koran lessons. It soon becomes clear that Daniel sees Samir as more than just a friend; moreover, Daniel's feelings are reciprocated by Samir. Gradually, the two boys begin to get close.
Ismail is a police officer and a family man in his mid-thirties. One day during a police raid at the central market he sees Leyla, the woman who, three years ago, sustained a life-threatening injury from a ricocheted bullet fired from his gun. The encounter throws him completely off balance.
The film's title refers to the first pillar of Islam: Shahada – the Muslim profession of faith. Shahada represents one's decision to take a certain path. The protagonists of this film struggle, each in their own way, to find the right path and a way of living with their own systems of belief and values.
Source: 60. Internationale Filmfestspiele Berlin (Catalogue)

Credits
All Credits
Director:
Burhan Qurbani
Assistant director:
Antonia Molter
Screenplay:
Ole Giec, Burhan Qurbani
Director of photography:
Yoshi Heimrath
Assistant camera:
Maximilian Günther
2nd Camera unit:
Maximilian Hoever
Steadycam operator:
Clemens Treml, Giovanni Giuseppetti, Martin Bock
Optical effects:
Claudius Rauch
Lighting design:
Sunyam Riegger
Gaffer:
Marco Fischer
Set design:
Barbara Falkner (Szenenbild), Sabrina Barteleit (Set Decorator)
Storyboard:
Rene Borbely
Property master:
Nils Strnad
Stand-by props:
Markus Wegner
Make-up artist:
Anja Heinemann, Sandra Meyer
Costume design:
Irene Ip
Editing:
Simon Blasi
Sound design:
Jörg Theil
Sound:
Magnus Pflüger
Foley artist:
Peter Sandmann
Audio mixing:
Michael Kaczmarek, Anja Bause (Geräusche)
Consultant:
Bernd Lange (Drehbuch)
Casting:
Karen Wendland
Music:
Daniel Sus
Cast:
Maryam Zaree
Maryam
Jerry Hoffmann
Sammi
Carlo Ljubek
Ismail
Marija Škaričić
Leyla
Sergej Moya
Daniel
Vedat Erincin
Vedat
Anne Ratte-Polle
Sarah
Nora Rim Abdel-Maksoud
Renan
Alina Manoukian
Amira
Burak Yigit
Sinan
Production company:
bittersuess pictures GmbH (Berlin)
in co-production with:
Filmakademie Baden-Württemberg GmbH (Ludwigsburg), Zweites Deutsches Fernsehen (ZDF) (Mainz) (Das kleine Fernsehspiel)
Producer:
Susanne Kusche, Uwe Spiller, Robert Gold
Co-Producer:
Thomas Schadt, Thomas Lechner, Nico Hofmann
Producer (TV):
Burkhard Althoff (ZDF)
Producer:
Leif Alexis
Unit production manager:
Christine Günther
Shoot:
29.01.2009-04.03.2009: Berlin
Original distributor:
3Rosen Filmverleih GmbH (Berlin)
Funding:
Hessen Invest (Frankfurt am Main)
Length:
2513 m, 92 min
Format:
35mm, 1:2,35
Picture/Sound:
Farbe, Dolby Digital
Rating:
FSK-Prüfung (DE): 29.09.2010, 124161, ab 12 Jahre/feiertagsfrei
Screening:
Uraufführung (DE): 17.02.2010, Berlin, IFF - Wettbewerb;
Kinostart (DE): 30.09.2010
Titles
Originaltitel (DE) Shahada
Weiterer Titel (DE) Die Himmelsleiter
Weiterer Titel (DE) Shahada - Wer bist Du? Wen liebst Du? Woran glaubst Du?
Versions
Original

Length:
2513 m, 92 min
Format:
35mm, 1:2,35
Picture/Sound:
Farbe, Dolby Digital
Rating:
FSK-Prüfung (DE): 29.09.2010, 124161, ab 12 Jahre/feiertagsfrei
Screening:
Uraufführung (DE): 17.02.2010, Berlin, IFF - Wettbewerb;
Kinostart (DE): 30.09.2010
Awards
Hessischer Filmpreis 2010
Bester Spielfilm
FIRST STEPS Award 2010
Sonderpreis Kamera
Festival des deutschen Films, Ludwigshafen 2010
undotierter Filmkunstpreis, Originellste Darstellungsform und Thema
FBW 2010
Prädikat: besonders wertvoll
Studio Hamburg Nachwuchspreis 2010
Beste Produktion
Bestes Drehbuch
Verfügbarkeit
Videos
Materials
External Links