SMS für dich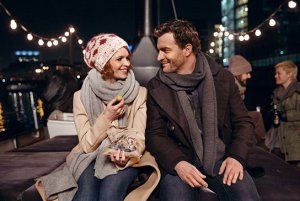 Source: Warner Bros. Pictures, DIF, © 2016 Warner Bros. Ent.
Karoline Herfurth, Friedrich Mücke in "SMS für dich" (2015/16)
Inhalt
Text For You
Sports writer Mark is baffled when he receives romantic text messages on his cell phone. What he does not know: His new number once belonged to the deceased boyfriend of Clara, who continues to send text messages in order to cope with the loss. When Mark's girlfriend discovers the texts, she is understandably upset. Along with his best friend David, Mark sets out to find the mysterious writer.
Credits
All Credits
| | |
| --- | --- |
| Director: | Karoline Herfurth |
| Screenplay: | Malte Welding, Andrea Willson, Sophie Kluge, Karoline Herfurth, Anika Decker |
| based on: | Sofie Cramer (Roman) |
| Director of photography: | Andreas Berger |
| Lighting design: | Ron Rakowski |
| Production design: | Christian Martin Goldbeck |
| Make-up artist: | Sabine Schumann, Jan Kempkens-Odemski |
| Costume design: | Lisy Christl |
| Editing: | Simon Gstöttmayr |
| Sound: | Dirk Schaefer, Wavefront Studios GmbH (München) (Sounddesign) |
| Audio mixing: | Wavefront Studios GmbH (München) |
| Casting: | Daniela Tolkien |
| Music: | Annette Focks |
| | |
| Cast: | |
| Karoline Herfurth | Clara Sommerfeld |
| Friedrich Mücke | Mark Zimmermann |
| Nora Tschirner | Katja |
| Frederick Lau | David |
| Katja Riemann | Henriette Boot |
| Enissa Amani | Nikki |
| Friederike Kempter | Fiona |
| Samuel Finzi | Wortmann |
| Tobias Kasimirowicz | Anton Schnabel |
| Cordula Stratmann | Ulli Volkowitz |
| | |
| Production company: | Hellinger / Doll Filmproduktion GmbH (Berlin) |
| in co-production with: | Warner Bros. Pictures Germany GmbH (Hamburg) |
| Producer: | Lothar Hellinger, Christopher Doll |
| Co-Producer: | Willi Geike, Jacqueline Jagow |
| Producer: | Andrea Willson (Creative Producer) |
| Unit production manager: | Mark Nolting |
| Shoot: | 10.2015-03.12.2015: Berlin und Brandenburg |
| Original distributor: | Warner Bros. Pictures Germany GmbH (Hamburg) |
| Funding: | Filmförderungsanstalt (FFA) (Berlin), Deutscher Filmförderfonds (DFFF) (Berlin), Medienboard Berlin-Brandenburg GmbH (MBB) (Potsdam) |
| Length: | 107 min |
| Format: | DCP, 1:2,39 |
| Picture/Sound: | Farbe, Dolby |
| Rating: | FSK-Prüfung (DE): 23.08.2016, 161755, ohne Altersbeschränkung / feiertagsfrei |
| Screening: | Kinostart (DE): 15.09.2016 |
Titles
Originaltitel (DE) SMS für dich
Versions
Original

Length:
107 min
Format:
DCP, 1:2,39
Picture/Sound:
Farbe, Dolby
Rating:
FSK-Prüfung (DE): 23.08.2016, 161755, ohne Altersbeschränkung / feiertagsfrei
Screening:
Kinostart (DE): 15.09.2016
Verfügbarkeit
Videos
Current News
External Links