Stratos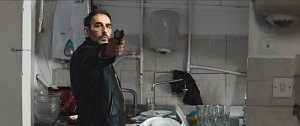 Source: 64. Internationale Filmfestspiele Berlin (Catalogue), © Falirohouse Productions
Vangelis Mourikis in "To Mikro Psari" (2013/14)
Inhalt
By night, Stratos works in a bread factory but by day, he's a professional hit man. He needs the cash to free Leonidas from prison because the latter once saved his life when he was behind bars. For Stratos, this is simply a question of honour.
We've no idea how many people he's already killed, but we do notice that he still has a conscience. He attentively looks after a neighbour's child, eight-year-old Katharina, as well as her mother and an uncle. At last he has enough money for the prison break-out. But Leonidas is lured into a bloody trap, by his brother of all people, who disappears with the money. At the same time Stratos learns that little Katharina is in danger – both psychologically and physically. He must act, even if this means following one wrongdoing with another.
In his fourth feature film Yannis Economides makes use of the character of the detached contract killer in order to explore a sad and desolate world. The forlornness of his protagonist reflects the desperation of a society which has given up on itself and its values and has allowed the mask of civilisation to fall away.
Source: 64. Internationale Filmfestspiele Berlin (Catalogue)

Credits
| | |
| --- | --- |
| Director: | Yannis Economides |
| Screenplay: | Yannis Economides, Xiros Thanos, Vangelis Mourikis, Christos V. Konstantakopoulos, Harry Lagoussis |
| Director of photography: | Dimitris Katsaitis |
| Music: | Babis Papadopoulos |
| | |
| Cast: | |
| Vangelis Mourikis | Stratos |
| Petros Zervos | Makis |
| Vicky Papadopoulou | Vicky |
| Yannis Tsortekis | Yorgos |
| Yorgos Yannopoulos | Petropoulos |
| Yannis Anastasakis | Maler |
| Polina Dellatola | Katerina |
| Sonja Theodoridou | Jenny |
| Maria Kallimani | Dame auf dem Friedhof |
| Popi Tsapanidou | Maria |
| | |
| Production company: | Faliro House Productions (Athen), Argonauts Productions (Athen), Yannis Economides Films ltd. (Zypern), The Match Factory GmbH (Köln) |
| Producer: | Christos V. Konstantakopoulos, Yannis Economides, Michael Weber, Panos Papahadzis |
All Credits
| | |
| --- | --- |
| Director: | Yannis Economides |
| Assistant director: | Christos Houliaras |
| Screenplay: | Yannis Economides, Xiros Thanos, Vangelis Mourikis, Christos V. Konstantakopoulos, Harry Lagoussis |
| Director of photography: | Dimitris Katsaitis |
| Production design: | Ioulia Stavridou |
| Make-up artist: | Giannis Pamoukis |
| Costume design: | Ioulia Stavridou |
| Sound design: | Yannis Chalkiadakis |
| Sound: | Dinos Kitou, William Franck |
| Casting: | Sotiria Marini |
| Music: | Babis Papadopoulos |
| | |
| Cast: | |
| Vangelis Mourikis | Stratos |
| Petros Zervos | Makis |
| Vicky Papadopoulou | Vicky |
| Yannis Tsortekis | Yorgos |
| Yorgos Yannopoulos | Petropoulos |
| Yannis Anastasakis | Maler |
| Polina Dellatola | Katerina |
| Sonja Theodoridou | Jenny |
| Maria Kallimani | Dame auf dem Friedhof |
| Popi Tsapanidou | Maria |
| | |
| Production company: | Faliro House Productions (Athen), Argonauts Productions (Athen), Yannis Economides Films ltd. (Zypern), The Match Factory GmbH (Köln) |
| in association with: | Hellenic Radio & Television (Athen) |
| Producer: | Christos V. Konstantakopoulos, Yannis Economides, Michael Weber, Panos Papahadzis |
| Co-Producer: | Irini Souganidou |
| Executive producer: | Marina Konstantakopoulou |
| Unit production manager: | Dimitris Birbilis |
| Shoot: | 25.01.2013-20.04.2013: Griechenland, Zypern |
| Funding: | Hellenic Ministry of Culture (Athen), Filmförderungsanstalt (FFA) (Berlin), Eurimages der EU (Strasbourg), Film- und Medien Stiftung NRW (Düsseldorf), Greek Film Center (Athen) |
| Length: | 138 min |
| Format: | HD, 16:9 |
| Picture/Sound: | Farbe, Dolby |
| Rating: | FSK-Prüfung (DE): 02.02.2015, 149747, ab 16 Jahre/feiertagsfrei |
| Screening: | Uraufführung (DE): 11.02.2013, Berlin, IFF - Wettbewerb |
Titles
Originaltitel (DE) Stratos
Weiterer Titel (GR DE CY) To Mikro Psari
Weiterer Titel (DE) The Six-Fingered Man
Versions
Original

Length:
138 min
Format:
HD, 16:9
Picture/Sound:
Farbe, Dolby
Rating:
FSK-Prüfung (DE): 02.02.2015, 149747, ab 16 Jahre/feiertagsfrei
Screening:
Uraufführung (DE): 11.02.2013, Berlin, IFF - Wettbewerb