Väter und Söhne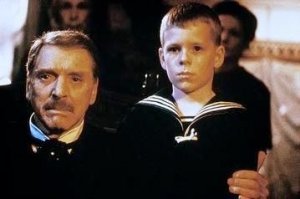 Burt Lancaster, Marcus Hetzner (from left to right) in "Väter und Söhne" (1984/85)
Inhalt
Fathers and Sons
Four-part miniseries about the Deutz family, a Frankfurt industrial dynasty whose business evolved into the infamous IG Farben conglomerate. Against the will of patriarch Carl Julius Deutz, the new company is founded in order to accumulate the necessary funds for the production of poison gas. After already profiting from the chemical warfare of WWI, the company later becomes a crucial accomplice in the industrially organized genocide of the Nazis. This not only leads to conflicts between Deutz and his sons, but also affects everyone associated with the family.
Credits
All Credits
Director:
Bernhard Sinkel
Assistant director:
Peter Sehr
Screenplay:
Bernhard Sinkel
Director of photography:
Dietrich Lohmann
Assistant camera:
Gaby Bzdega, Uli Kudicke
Production design:
Erhardt Engel, Götz Weidner
Make-up artist:
Heidi Kirsch, Peter Knöpfle, Georgette Künsemüller, Albin Löw
Costume design:
Barbara Baum
Editing:
Jean-Claude Piroué
Assistant editor:
Michaela Heigl, Irmengard Sterr
Sound:
Holger Gimpel, Rainer Wiehr
Audio mixing:
Milan Bor
Special effects:
Helmut Klee
Casting:
Sabine Schroth
Cast:
Julie Christie
Charlotte Deutz
Tina Engel
Luise Deutz
Dieter Laser
Friedrich Deutz
Rüdiger Vogler
Ulrich Deutz
Bruno Ganz
Heinrich Beck
Martin Benrath
Bankier Bernheim
Laura Morante
Judith Bernheim
Christian Doermer
Dr. Körner
Burt Lancaster
Geheimrat Carl Julius Deutz
Paul Glawion
Staatssekretär
Production company:
Bavaria Atelier GmbH (München-Geiselgasteig)
Commissioned by:
Westdeutscher Rundfunk (WDR) (Köln)
Producer:
Helmut Krapp, Günter Rohrbach
Executive producer:
Dieter Minx
Unit production manager:
Jürgen Bieske-Feddern, Jürgen Kussatz, Dieter-Klaus Reindl
Length:
480 min
Format:
1:1,33
Picture/Sound:
Farbe, Mono
Screening:
TV-Erstsendung (DE): 12.11.1986, ARD [Teil 1];
TV-Erstsendung (DE): 16.11.1986, ARD [Teil 2];
TV-Erstsendung (DE): 19.11.1986, ARD [Teil 3];
TV-Erstsendung (DE): 23.11.1986, ARD [Teil 4]
Titles
Originaltitel (DE) Väter und Söhne
Abschnittstitel (DE) 1. Teil: Lieb Vaterland...
Abschnittstitel (DE) 2. Teil: Die Konzerne
Abschnittstitel (DE) 3. Teil: Macht und Ohnmacht
Abschnittstitel (DE) 4. Teil: Auf Ehre und Gewissen
Versions
Original

Length:
480 min
Format:
1:1,33
Picture/Sound:
Farbe, Mono
Screening:
TV-Erstsendung (DE): 12.11.1986, ARD [Teil 1];
TV-Erstsendung (DE): 16.11.1986, ARD [Teil 2];
TV-Erstsendung (DE): 19.11.1986, ARD [Teil 3];
TV-Erstsendung (DE): 23.11.1986, ARD [Teil 4]