Vergiss dein Ende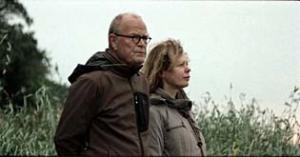 Quelle: Filmfestival Max Ophüls Preis 2011
Dieter Mann, Renate Krößner
Inhalt
Way home


Completely devastated, Hannelore takes off with her neighbor to the Baltic Sea, leaving her estranged husband at home. Dement and non self-sufficient, he is completely dependent on her care. But this dependence is exactly what is smothering them both.
Hannelore′s son Heiko finds his father at home all alone.

Without knowing where his mother is, he takes on re sponsibility for his father, for the first time in his life. Hannelore′s neighbor quickly notices that something is wrong. He opens up to her a little and lets her stay at his holiday home. Hannelore just cannot seem to convince herself to return home and her son isn′t making things any easier for her. When Günther tries to help her, he unintentionally pushes her closer to his own abyss. In the end, he has no other choice than to go back home with her and help her stand up to Heiko.
Hannelore dares a new beginning.


Source: German films Service & Marketing GmbH
Credits
All Credits
Director:
Andreas Kannengießer
Assistant director:
Janina Hüttenrauch
Screenplay:
Nico Woche
Director of photography:
Stephan Fallucchi
Assistant camera:
Facundo Altube
Steadycam operator:
Martin Bock
Optical effects:
Achille Abboud
Lighting design:
Silvio Kröger
Gaffer:
Ferdinand Fehlberg
Set design:
Barbara Falkner (Szenenbild), Adan Hernandez Salazar
Property master:
Dirk Kuring
Stand-by props:
Jennifer Murach
Make-up artist:
Emilia Seifert
Costume design:
Nicole Hutmacher
Editing:
Mirja Gerle, Andreas Kannengießer
Assistant editor:
Marc Böhlhoff
Sound editor:
Johannes Varga
Sound design:
Paul Rischer
Sound:
Marko Weichler
Audio mixing:
Silvio Naumann
Casting:
Suse Marquardt
Music:
Martin Spange
Cast:
Renate Krößner
Hannelore
Dieter Mann
Günther
Hermann Beyer
Klaus
Eugen Krößner
Heiko
Nadine Pasta
Steffi
Joe Rilla
Maik
Martin Seifert
Bernhard
Franziska Jünger
Polizistin
Mario Pokatzky
Werkstattmeister
André Röhner
Junger Arzt
Production company:
Anna Wendt Filmproduktion (Berlin)
in co-production with:
Hochschule für Film und Fernsehen »Konrad Wolf« (Potsdam-Babelsberg)
Producer:
Anna Wendt
Line producer:
Holger Lochau
Unit production manager:
Christine Rau
Location manager:
Christian Korneck, Florian Gradmann, Martin Pust (Set)
Shoot:
01.09.2009-31.10.2009: Berlin, Rügen und Umgebung
Original distributor:
Basis-Film Verleih GmbH (Berlin)
Funding:
Medienboard Berlin-Brandenburg GmbH (MBB) (Potsdam), Wirtschaftliche Filmförderung Mecklenburg-Vorpommern (Schwerin)
Length:
2666 m, 97 min
Format:
35mm, 1:2,35
Picture/Sound:
Farbe, Dolby
Rating:
FSK-Prüfung (DE): 25.01.2012, 131331, ab 12 Jahre/feiertagsfrei
Screening:
Uraufführung (DE): 19.01.2011, Saarbrücken, Max-Ophüls-Preis;
Kinostart (DE): 22.09.2011
Titles
Originaltitel (DE) Vergiss dein Ende
Arbeitstitel (DE) Heimweh
Versions
Original

Length:
2666 m, 97 min
Format:
35mm, 1:2,35
Picture/Sound:
Farbe, Dolby
Rating:
FSK-Prüfung (DE): 25.01.2012, 131331, ab 12 Jahre/feiertagsfrei
Screening:
Uraufführung (DE): 19.01.2011, Saarbrücken, Max-Ophüls-Preis;
Kinostart (DE): 22.09.2011
Awards
Studio Hamburg Nachwuchspreis 2011
Bester Film
filmkunstfest Mecklenburg-Vorpommern 2011
Nachwuchsförderpreis
Achtung Berlin Filmfestival 2011
Preis der Ökumenischen Jury
Bestandskatalog
Verfügbarkeit
Videos
Materials
External Links