Waffenstillstand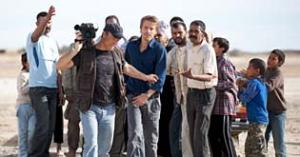 Quelle: piâbo medienmanagement GmbH
Szene mit Hannes Jaenicke, Maximilian von Pufendorf (vorne v.l.n.r.)
Inhalt
Ceasefire
Baghdad. The war is officially over, the situation still disastrous. The supply of food and medicine to Fallujah has collapsed. Americans and rebels manage to agree to a 24-hour ceasefire.
Kim, a Dutch worker for an international relief organization, teams up with the young German journalist Oliver, who hopes for a scoop, to organize an aid transport. Kim is hell-bent to get blood units and medication into Fallujah, but the transport has to return within the 24 hours or face the consequences.
Oliver′s experienced cameraman Ralf is pessimistic about the plan while Husam, the local driver, has his own hidden agenda. Joining them is Alain Laroche, one of the last doctors in the zone.
The five take to the road through a devastated country. Overcoming severe obstacles, they make it to Fallujah, where the situation is dire. Desperate, they decide to take as many wounded back to Baghdad as they can. But will they make it before the 24 hours are up?
Source: German Films Service & Marketing GmbH
Credits
| | |
| --- | --- |
| Director: | Lancelot von Naso |
| Screenplay: | Collin McMahon, Lancelot von Naso, Kai-Uwe Hasenheit |
| Director of photography: | Felix Cramer |
| Editing: | Vincent Assmann, Kilian von Keyserlingk, Lancelot von Naso |
| Music: | Oliver Thiede, Jonas Bühler |
| | |
| Cast: | |
| Matthias Habich | Allain |
| Thekla Reuten | Kim |
| Hannes Jaenicke | Ralf |
| Maximilian von Pufendorf | Oliver |
| Husam Chadat | Husam |
| Peter Gantzler | Eric |
| David Michael Williamson | Presse Offizier |
| Harvey Friedman | Colonel Gibson |
| Larbi Sassy | Abu Ali |
| Meryam Raoui | Fatima |
| | |
| Production company: | Drife Productions (München), DCM Mitte Productions GmbH (Berlin), Kasbah-films Tangier (MA), Erfttal Film- und Fernsehproduktion GmbH & Co KG (Siegburg) |
| Producer: | Martin Richter, Florian Deyle, Markus Reinecke, Dario Suter, Klaus Dohle, Christoph Neageli, Marc Schmidheiny, Christoph Daniel |
All Credits
Director:
Lancelot von Naso
Assistant director:
Leslie Fritz
Screenplay:
Collin McMahon, Lancelot von Naso, Kai-Uwe Hasenheit
Director of photography:
Felix Cramer
Assistant camera:
Olaf Aue, Peppa Meißner
Clapper loader:
Henriette Bornkamm
2nd Camera unit:
Ralf Leistl
Steadycam operator:
Sebastian Geret
Optical effects:
Claudius Rauch
Lighting design:
Ralph von Zündt
Key grip:
Axel Löcherer
Set design:
Annette Lofy (Szenenbild), Oliver Hoese
Make-up artist:
Kerstin Gaecklein, Heiko Schmidt
Costume design:
Tina Sorge
Editing:
Vincent Assmann, Kilian von Keyserlingk, Lancelot von Naso
Sound design:
Immo Trümpelmann, Martin Frühmorgen
Sound:
Immo Trümpelmann, Martin Frühmorgen, Bastian Huber
Audio mixing:
Holger Lehmann
Casting:
Uwe Bünker
Music:
Oliver Thiede, Jonas Bühler
Cast:
Matthias Habich
Allain
Thekla Reuten
Kim
Hannes Jaenicke
Ralf
Maximilian von Pufendorf
Oliver
Husam Chadat
Husam
Peter Gantzler
Eric
David Michael Williamson
Presse Offizier
Harvey Friedman
Colonel Gibson
Larbi Sassy
Abu Ali
Meryam Raoui
Fatima
Production company:
Drife Productions (München), DCM Mitte Productions GmbH (Berlin), Kasbah-films Tangier (MA), Erfttal Film- und Fernsehproduktion GmbH & Co KG (Siegburg)
in co-production with:
Creado Film AG & Co. KG (Konstanz)
in association with:
Zweites Deutsches Fernsehen (ZDF) (Mainz) (Das kleine Fernsehspiel), Arte Deutschland TV GmbH (Baden-Baden)
Producer:
Martin Richter, Florian Deyle, Markus Reinecke, Dario Suter, Klaus Dohle, Christoph Neageli, Marc Schmidheiny, Christoph Daniel
Co-Producer:
Dirk Hamm, Oliver König
Producer (TV):
Anne Even (ZDF/Arte), Lucas Schmidt (ZDF), Barbara Häbe (Arte)
Line producer:
Martin Richter
Unit production manager:
Oliver Ratzer, Rainer Jeskulke
Location manager:
Tilman Kolb
Production assistant:
Florian Leonhardt
Production coordinator:
Katharina Beckel
Shoot:
28.09.2008-08.11.2008: Berlin, Marokko, Schweiz
Original distributor:
3L Filmverleih GmbH & Co. KG (Dortmund)
Funding:
FilmFernsehFonds Bayern GmbH (FFFB) (München)
Length:
2783 m, 102 min
Format:
35 mm, 1:1,185
Picture/Sound:
Farbe, Dolby
Rating:
FSK-Prüfung (DE): 12.01.2010, 121208, ab 12 Jahre/feiertagsfrei
Screening:
Uraufführung (CA): 30.08.2009, Montreal, WFF - Wettbewerb;
Kinostart (DE): 18.03.2010
Titles
Originaltitel (DE) Waffenstillstand
Versions
Original

Length:
2783 m, 102 min
Format:
35 mm, 1:1,185
Picture/Sound:
Farbe, Dolby
Rating:
FSK-Prüfung (DE): 12.01.2010, 121208, ab 12 Jahre/feiertagsfrei
Screening:
Uraufführung (CA): 30.08.2009, Montreal, WFF - Wettbewerb;
Kinostart (DE): 18.03.2010
Awards
Bayerischer Filmpreis 2010
VGF-Preis
Prix Europa 2010
Prix Europa TV Fiction, Best TV Fiction Programme
FBW 2009
Prädikat: wertvoll
IFF Hof 2009
Förderpreis Deutscher Film
Zürich Film Festival 2009
Publikumspreis