Was am Ende zählt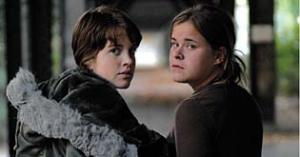 Quelle: 57. Internationale Filmfestspiele Berlin (Katalog), © Credofilm
Paula Kalenberg, Marie-Luise Schramm (v.l.n.r.)
Inhalt
Nothing Else Matters

Carla left home with high hopes. Lucie works for Rico in the construction business. The two women meet at a building site and become friends. Carla tells Lucie of her dream of going to Lyon. She's saving every cent she has. But just before she is about to embark on her journey she discovers that she is pregnant. All at once her dreams of a new life in Lyon recede into the far distance. It's too late to have an abortion and there's no way that Carla can go to a doctor because she′s afraid that her father will find out about her pregnancy since she's still insured through his health care card. Lucie couldn′t be more pleased that Carla has had to postpone her move.
She and Carla have become far too close for Lucie to simply let her go. For this reason, Lucie suggests a deal to her girlfriend: have the baby under my name and I'll take on the child. Carla agrees to the plan and the two girls go into hiding. But after the birth Carla can′t bring herself to leave her baby behind and it's not long before both 'mothers' discover that they′re in way above their heads. Things go from bad to worse. It′s time for Carla and Lucie to make a decision.
Source: 57. Internationale Filmfestspiele Berlin (Catalogue)
Credits
All Credits
Director:
Julia von Heinz
Assistant director:
Franca Drewes
Screenplay:
John Quester, Julia von Heinz
Director of photography:
Daniela Knapp
Assistant camera:
Martin Leitsch, Steve Scholl
Steadycam operator:
Florian Klos
Still photography:
Nik Konietzny
Lighting design:
Markus Görgens
Key grip:
Jens Reuscher
Set design:
John Quester (Szenenbild)
Prop master:
Malte Schmidt
Make-up artist:
Nadine Scherer
Costume design:
Elke von Sivers
Editing:
Florian Miosge
Sound:
Benjamin Hörbe
Sound assistant:
Stefan Bangert
Audio mixing:
Holger Lehmann
Casting:
Mai Seck
Music:
Matthias Petsche
Cast:
Paula Kalenberg
Carla
Marie-Luise Schramm
Lucie
Benjamin Felix Kramme
Michael
Vinzenz Kiefer
Rico
Toni Osmani
Bert
Clara Charlotte König
Baby Martha
Martin Ontrop
Dietmar
Katy Karrenbauer
Fiona
Anja Beatrice Kaul
Sozialarbeiterin
Evelyn Meyka
Nachtschwester
Production company:
credo:film gmbh (Berlin)
in co-production with:
Hochschule für Film und Fernsehen »Konrad Wolf« (Potsdam-Babelsberg), Westdeutscher Rundfunk (WDR) (Köln), Arte G.E.I.E. (Straßburg)
Producer:
Susann Schimk, Jörg Trentmann
Producer (TV):
Andrea Hanke, Andreas Schreitmüller
Unit production manager:
Philip Pratt
Location manager:
Sophie Stäglich
Shoot:
05.08.2006-08.09.2006: Berlin
Original distributor:
Zorro Filmverleih GmbH (München-Geiselgasteig)
Subsequent distributor:
missingFILMs (Berlin)
Length:
2840 m, 104min
Format:
Super16mm - Blow-Up 35mm, 1:1,85
Picture/Sound:
Farbe, Dolby SR
Rating:
FSK-Prüfung (DE): 11.03.2008, 113152, ab 12 Jahre / feiertagsfrei
Screening:
Uraufführung: 16.02.2007, Berlin, IFF - Perspektive Deutsches Kino;
Kinostart (DE): 01.05.2008;
TV-Erstsendung (DE FR): 23.10.2009, Arte
Titles
Originaltitel (DE) Was am Ende zählt
Versions
Original

Length:
2840 m, 104min
Format:
Super16mm - Blow-Up 35mm, 1:1,85
Picture/Sound:
Farbe, Dolby SR
Rating:
FSK-Prüfung (DE): 11.03.2008, 113152, ab 12 Jahre / feiertagsfrei
Screening:
Uraufführung: 16.02.2007, Berlin, IFF - Perspektive Deutsches Kino;
Kinostart (DE): 01.05.2008;
TV-Erstsendung (DE FR): 23.10.2009, Arte
Awards
Deutscher Filmpreis 2009
Lola, Bester Kinder- und Jugendfilm
Filmfestival Schwäbisch Hall 2007
Bester Spielfilm
Giffoni Film Festival 2007
Chrystal Gryphon Award
Verfügbarkeit
Materials
External Links