Welt am Draht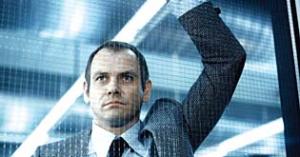 Quelle: 60. Internationale Filmfestspiele Berlin (Katalog), © Kinowelt GmbH
Inhalt
World on a wire

The Institute for Cybernetics and Futurology's most important project is Simulacron 1 – an electronic monster designed to put ordinary computer technology on an entirely new plane. Simulacron is able to make accurate predictions of social, economic and political events as if they were really happening in the present. This feature makes Simulacron of interest to two groups of people: those who are keen to improve living conditions in the future, and those who are hoping for information that will give them an advantage over their competitors. The research project's initiator and director is Professor Vollmer who, however, dies suddenly, in mysterious circumstances. His death is quickly agreed to have been suicide – after all, shortly before his death he did show signs of a strange mental illness – and Siskins, the institute's powerful head, appoints Dr Stiller as the scientist's successor.
However, Stiller's colleagues soon begin to detect similarly bizarre symptoms in the new project director. Stiller attempts to forget his problems by throwing himself into his work on Simulacron. To him, Simulacron is not just a lifeless machine but a whole microcosm and, although he knows that the so-called "identity units" are simply the result of electronic processes they
sometimes look just like real people. Is Stiller schizophrenic? Many would seem to think so. But then, one day, during a routine transfer of his consciousness into the Simulacron′s chip, Stiller thinks he may have spotted an old acquaintance. – This Berlinale screening marks the theatrical premiere
of the restored version of this film.
Source: 60. Internationale Filmfestspiele Berlin (Catalogue)
Credits
All Credits
Director:
Rainer Werner Fassbinder
Assistant director:
Renate Leiffer, Fritz Müller-Scherz
Screenplay:
Fritz Müller-Scherz, Rainer Werner Fassbinder
based on:
Daniel F. Galouye (Roman "Simulacron-3")
Director of photography:
Michael Ballhaus
Assistant camera:
Ulrich Prinz
Camera (other):
Winfried Staschau (Bildtechnik)
Production design:
Kurt Raab
Set design:
Horst Giese, Walter Koch
Make-up artist:
Rosemarie Schönartz, Norbert Gerwin
Costume design:
Gabriele Pillon
Editing:
Marie-Anne Gerhardt
Assistant editor:
Ursula Elles
Sound:
Ernst Thomas
Sound assistant:
Hans Pampuch
Music:
Gottfried Hüngsberg
Cast:
Klaus Löwitsch
Fred Stiller
Barbara Valentin
Gloria Fromm
Mascha Rabben
Eva Vollmer, Tochter von Henry Vollmer
Karl Heinz Vosgerau
Siskins
Wolfgang Schenck
Hahn
Günter Lamprecht
Wolfgang
Ulli Lommel
Rupp
Adrian Hoven
Professor Henry Vollmer
Ivan Desny
Günther Lause, Onkel von Eva Vollmer
Joachim Hansen
Edelkern
dubbed by:
Wolfgang Hess (El Hedi ben Salem)
Production company:
Westdeutscher Rundfunk (WDR) (Köln)
Producer (TV):
Peter Märthesheimer (WDR), Alexander Wesemann (WDR)
Unit production manager:
Fred Ilgner
Location manager:
Hans D. Adenacker, Marcel Massotti, Wolfgang von der Ruhr
Length:
102 min (Teil 1), 106 min (Teil 2)
Format:
16mm, 1:1,37
Picture/Sound:
Eastmancolor, Ton
Screening:
TV-Erstsendung (DE): 14.10.1973, ARD [1. Teil];
TV-Erstsendung (DE): 16.10.1973, ARD [2. Teil]
Titles
Originaltitel (DE) Welt am Draht
Versions
Original

Length:
102 min (Teil 1), 106 min (Teil 2)
Format:
16mm, 1:1,37
Picture/Sound:
Eastmancolor, Ton
Screening:
TV-Erstsendung (DE): 14.10.1973, ARD [1. Teil];
TV-Erstsendung (DE): 16.10.1973, ARD [2. Teil]
Length:
102 min (Teil 1), 108 min (Teil 2)
Format:
35mm
Picture/Sound:
Eastmancolor, Ton
Screening:
Erstaufführung (DE): 14.02.2010, Berlin, IFF - Berlinale Special [Restaurierte Fassung]
Verfügbarkeit
External Links