Wir sagen Du! Schatz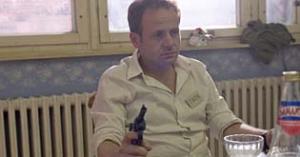 Inhalt
Tragicomedy about a man called Oliver who desperately wants to have a family of his own. Thus, one day, he decides to "steal" one. He abducts a woman, three children, a grandmother, and a grandfather and locks them up on the 17th floor of an unoccupied high-rise. By all means, Oliver, a man in his mid-thirties, wants to turn this group into "his family". But soon, the different characters, anxieties and neuroses of the "forced family" clash. Although the whole situation is more and more escalating, Oliver still pursues his dream – until the situation actually improves.
Credits
All Credits
Director:
Marc Alexander Meyer
Screenplay:
Marc Alexander Meyer
Director of photography:
Peter Polsak-Lohmann
Set design:
Ariunsaikhan Davaakhuu (Szenenbild)
Property master:
Julia Gugelmeier
Stand-by props:
Julia König
Make-up artist:
Jil La Monaca
Costume design:
Katrin Hauer
Editing:
Diana Karsten
Sound design:
Moritz Hoffmeister
Sound:
Mark Wegner
Foley artist:
Carsten Richter
Audio mixing:
Jörg Höhne
Music:
Christian Biegai
Cast:
Samuel Finzi
Vater Oliver Eckstein
Nina Kronjäger
Mutter Sofia Eckstein
Anna Maria Mühe
Tochter Maya Eckstein
Harald Warmbrunn
Opa Horst
Margot Nagel
Oma Edna
Ennio Incannova
Sohn Ennio Eckstein
Production company:
Miko Film (Berlin)
Producer:
Faysal Omer
Unit production manager:
Meike Kornrumpf
Shoot:
09.2006-: Berlin
Original distributor:
Zorro Filmverleih GmbH (München-Geiselgasteig)
Funding:
Medienboard Berlin-Brandenburg GmbH (MBB) (Potsdam), Kuratorium Junger Deutscher Film (Wiesbaden), Filmförderungsanstalt (FFA) (Berlin)
Length:
2861 m, 104 min
Format:
35mm, 1:1,85
Picture/Sound:
Farbe, Dolby DTS
Rating:
FSK-Prüfung (DE): 05.11.2007, 111958, ab 12 Jahre / feiertagsfrei
Screening:
Erstaufführung (DE): 06.11.2007, Braunschweig, FilmFest;
Kinostart (DE): 15.11.2007
Titles
Originaltitel (DE) Wir sagen Du! Schatz
Schreibvariante (DE) Wir sagen Du, Schatz!
Arbeitstitel (DE) Eine etwas andere Familie
Arbeitstitel (DE) Wahn Sinn Familie
Versions
Original

Length:
2861 m, 104 min
Format:
35mm, 1:1,85
Picture/Sound:
Farbe, Dolby DTS
Rating:
FSK-Prüfung (DE): 05.11.2007, 111958, ab 12 Jahre / feiertagsfrei
Screening:
Erstaufführung (DE): 06.11.2007, Braunschweig, FilmFest;
Kinostart (DE): 15.11.2007
Awards
FBW 2008
Prädikat: Wertvoll
Verfügbarkeit
Videos
Materials
Current News
External Links