Zeichnen bis zur Raserei. Der Maler Ernst Ludwig Kirchner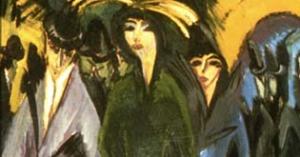 Quelle: MFA, DIF, © Dr. Wolfgang und Ingeborg Henze-Kletterer, Wichtrach/Bern
Szene aus "Zeichnen bis zur Raserei. Der Maler Ernst Ludwig Kirchner"
Inhalt
Draw Til You Drop - The Painter Ernst Ludwig Kirchner
"Kirchner's art is - like Picasso's - eminently autobiographical."
In other words, the intention and form of Kirchner′s art are so deeply rooted in reality, yet his life was such a dramatic reaction to critical upheavals, that one can conclude: few artists yield so much of themselves that their work could be described as the focus of an epoch.
At the end of the century we can take Kirchner as an example to make a film about the beginning of the century. No one succumbs to the city as fully as he did: enamored, lonely, swept off his feet, lost, disillusioned, fascinated. Berlin is Kirchner′s city. His streetscapes are considered the culmination of his work. They are a highlight of the history of modern painting and the backdrop in our mind's eye when we seek to capture big-city life in the first half of the century. Kirchner is the unvarnished perception of modern life. It hits him in the eye, he reacts, he seeks a form: size, speed, machine, man-eating monster, whore, crowds, razzle dazzle, synchronization of sensations, surrender to the show: cabaret, dance, circus.
Kirchner's art begins in Dresden and the Moritzburg ponds. Berlin is his urban awakening. The war crushes him. He retreats to the Swiss mountains. The span of tension in Kirchner's life and work makes for suspense-filled drama and yields an intense film portrayal.
Source: German films Service & Marketing GmbH
Credits
All Credits
| | |
| --- | --- |
| Director: | Michael Trabitzsch |
| Screenplay: | Michael Trabitzsch |
| Production company: | Catpics AG (Zürich), Prounen Filmproduktion (Berlin) |
| in association with: | Schweizer Fernsehen für die deutsche und rätoromanische Schweiz (SF DRS) (Zürich), Sender Freies Berlin (SFB) (Berlin), Ostdeutscher Rundfunk Brandenburg (ORB) (Potsdam-Babelsberg), Westdeutscher Rundfunk (WDR)/Arte (Köln), Inter Nationes (Bad Godesberg) |
| Original distributor: | MFA Film Distribution (Unterföhring) |
| Funding: | Kulturelle Filmförderung Schleswig-Holstein e.V. (Lübeck), FilmFörderung Hamburg GmbH (Hamburg), Media Programm der EU (Brüssel), Filmboard Berlin-Brandenburg GmbH (Potsdam), Eidgenössisches Departement des Innern (EDI) (Bern) |
| Length: | 86 min |
| Format: | 35mm |
| Picture/Sound: | Farbe + s/w, Ton |
| Screening: | Kinostart (DE): 20.09.2001 |
Titles
Originaltitel (DE CH) Zeichnen bis zur Raserei. Der Maler Ernst Ludwig Kirchner
Versions
Original

Length:
86 min
Format:
35mm
Picture/Sound:
Farbe + s/w, Ton
Screening:
Kinostart (DE): 20.09.2001
Bestandskatalog
Verfügbarkeit