Zeppelin!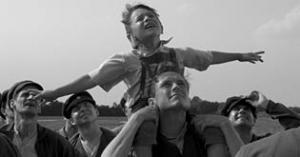 Quelle und © Gordian Maugg
Inhalt
In order to finally bring to an end a story his father has kept hidden in a faded old notebook, Matthias Silcher researches the story of his grandfather Robert, who died in 1937 in Lakehurst as a crew member on the Hindenburg. His investigation leads him to the Zeppelin Museum in Friedrichshafen to one of Robert's former colleagues, Karl Semmle. But the old man rejects Matthias and first wants to know why he is so curious before he breaks his silence.

The bizarre circumstances of Robert's death and the lives of his surviving family members thereafter does not come to light until 2004 with the help of Karl Semmle, the only witness of the time who really knows what happened and what drove Robert to sacrifice his own life to save the airship industry – a decision that would go on to haunt the lives of three generations.

Source: German Films Service & Marketing GmbH
Credits
| | |
| --- | --- |
| Director: | Gordian Maugg |
| Screenplay: | Gordian Maugg, Alexander Häusser |
| Director of photography: | Christine Anna Maier |
| Editing: | Monika Schindler |
| Music: | Ferdinand Försch |
| | |
| Cast: | |
| Olaf Rauschenbach | Robert, 1929 |
| Agnieszka Piwowarska | Thea, 1929 |
| Christa Dubbert | Thea, 1973 |
| Alexander May | Karl, 2005 |
| Hendrik Massute | Karl, 1929 |
| Christoph Bach | Konrad |
| Herbert Schäfer | Matthias, 2005 |
| Bruno Schubert | Matthias, 1973 |
| Louis El-Ghussein | Robert, 1909 |
| Peter Wolf | Jakob, 1937 |
| | |
| Production company: | Gordian Maugg Film- und Fernsehproduktion (Berlin) |
| Producer: | Gordian Maugg |
All Credits
Director:
Gordian Maugg
Assistant director:
Oliver Knorr, Joachim Bornemann
Script supervisor:
Britta Below
Screenplay:
Gordian Maugg, Alexander Häusser
based on:
Alexander Häusser (Erzählung)
Director of photography:
Christine Anna Maier
Assistant camera:
Sandra Merseburger
Still photography:
Jörn Staeger
Lighting design:
Rainer Stonus, Boris Heiland
Key grip:
Hannes Staehle
Set design:
Fritz Günthner (Szenenbild), Jürgen Kleine
Stand-by props:
Silke ten Hove
Construction manager:
Gerald Niemczik, Peter Sander
Animation:
Moser + Rosie (?)
Make-up artist:
Marianne Drope, Moshe Rundstein, Ines Gläsle (zusätzlich), Eva Maletz (zusätzlich)
Costume design:
Barbara Jäger, Armin Zwicker (Assistenz)
Editing:
Monika Schindler
Assistant editor:
Marie-Odile Flotow-Henkens
Sound:
Raoul Grass
Sound assistant:
Jörg Kaiser
Special effects:
Markus Geiger
Casting:
Britt Beyer
Music:
Ferdinand Försch
Cast:
Olaf Rauschenbach
Robert, 1929
Agnieszka Piwowarska
Thea, 1929
Christa Dubbert
Thea, 1973
Alexander May
Karl, 2005
Hendrik Massute
Karl, 1929
Christoph Bach
Konrad
Herbert Schäfer
Matthias, 2005
Bruno Schubert
Matthias, 1973
Louis El-Ghussein
Robert, 1909
Peter Wolf
Jakob, 1937
Production company:
Gordian Maugg Film- und Fernsehproduktion (Berlin)
in co-production with:
Transit Film GmbH (München), Zweites Deutsches Fernsehen (ZDF)/Arte (Mainz)
Producer:
Gordian Maugg
Co-Producer:
Loy W. Arnold
Producer (TV):
Alexander Bohr
Unit production manager:
Cornelia Schmidt-Matthiesen
Location manager:
Bibbi Müller, Ines Frederich
Production assistant:
Eva Kemme
Production coordinator:
Ursula Pfriem
Production manager:
Katharina Beck
Shoot:
06.2004-08.2004: Schwäbisch Hall, Wendlingen, Friedrichshafen am Bodensee, Bremen
Funding:
MFG Medien- und Filmgesellschaft Baden-Württemberg mbH (Stuttgart), FilmFörderung Hamburg GmbH (Hamburg), Medienboard Berlin-Brandenburg GmbH (MBB) (Potsdam), nordmedia Fonds GmbH Niedersachsen und Bremen (Hannover + Bremen), Hessische Filmförderung (Frankfurt am Main), Mecklenburg-Vorpommern-Film e.V., Hessischer Rundfunk Filmförderung (Frankfurt am Main), Kulturelle Filmförderung Mecklenburg-Vorpommern
Length:
2911 m, 106 min
Format:
35mm, 1:1,85
Picture/Sound:
Farbe + s/w, Ton
Rating:
FSK-Prüfung: 22.04.2005, 102223, ab 6 Jahre / feiertagsfrei
Screening:
Uraufführung (DE): 21.10.2006, Biberach, Filmfest;
Kinostart (DE): 10.01.2008;
TV-Erstsendung (DE FR): 10.12.2008, Arte
Titles
Originaltitel (DE) Zeppelin!
Versions
Original

Length:
2911 m, 106 min
Format:
35mm, 1:1,85
Picture/Sound:
Farbe + s/w, Ton
Rating:
FSK-Prüfung: 22.04.2005, 102223, ab 6 Jahre / feiertagsfrei
Screening:
Uraufführung (DE): 21.10.2006, Biberach, Filmfest;
Kinostart (DE): 10.01.2008;
TV-Erstsendung (DE FR): 10.12.2008, Arte