Angelica Domröse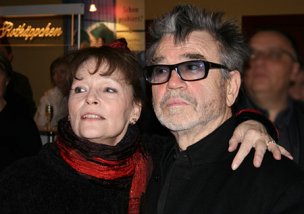 Source: PROGRESS Film-Verleih, Photo: Barbara Löblein
Angelica Domröse and Hilmar Thate at the PROGRESS-brunch at the IFF Berlin on February 12, 2006
Biography
Along with her work in the theatre, Domröse regularly appeared in DEFA feature films. She played the nurse Li in "Julia lebt" (1963) and the Jewess Ruth Bodenstein in "Chronik eines Mordes" ("The Story of a Murder", 1965). Her work in television at that time included "Wege übers Land" (1968), the series "Krupp und Krause" (1969), and most notably the titular role in the Fontane adaptation "Effi Briest" (1971). During her career, she was named East Germany's TV Artist of the Year in 1971, 1973 and 1975.
In 1972, she probably played her most famous role in Heiner Carow's "Die Legende von Paul und Paula" ("The Legend of Paul and Paula"). The film was a tremendous success, but in 1980, it was taken out of distribution after Domröse and her screen partner Winfried Glatzeder left the GDR. Already in 1979, she was guest starring in West Germany, and played the role of Helena in Boy Gobert's staging of "Faust II" at the Thalia Theater in Hamburg. In 1980, she was cast by Peter Zadek for his Fallada adaptation "Jeder stirbt für sich allein" in West-Berlin. Together with frequent screen and stage partner Hilmar Thate, whom she had married in 1976, she later joined the ensemble of the Schillertheater.
After her move to the Federal Republic, she only sporadically appeared in cinema releases, and predominately worked in television. She starred in Frank Beyer's drama "Die zweite Haut" and Egon Günther's "Hanna von acht bis acht", and had memorable roles in Helmut Dietl's acclaimed satire "Kir Royal" and the comedy series "Tagesshow". She also got excellent reviews for her performance alongside Hilmar Thate in the psychological TV drama "Hurenglück" (1990) by Detlef Rönfeldt.
In 1991, she re-teamed once more with director Heiner Carow for "Die Verfehlung" ("The Mistake"), a love story set between East and West which included allusions to "Die Legende von Paul und Paula". She continued to work in TV and also proved herself as a director of theatre plays and as a lecturer at the Academy of the Arts and the renowned Ernst Busch acting school in Berlin. In 2003, she appeared in Branwen Okpako's drama "Tal der Ahnungslosen" ("Valley of the Innocent"), and the same year, she published her biography under the title "Ich fang mich selbst ein".
In 2012 Domröse plays alongside Otto Sander the main character in Bernd Böhlich's "Bis zum Horizont, dann links!".
Angelica Domröse alternately lives in Berlin-Charlottenburg and at Siethener Lake; Brandenburg.