Barbara Junge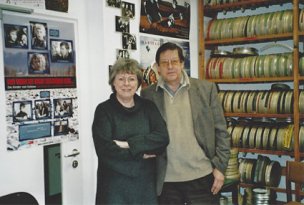 Source and ©: Winfried Junge
Barbara Junge, Winfried Junge
Biography
Barbara Junge was born November 4, 1943, in Neunhofen, under her maiden name Becher. After finishing school she graduated from university with an interpreter diploma. In 1968, she married the filmmaker Winfried Junge, and in 1969, she started out for the DEFA studio for documentary films where she worked as a dubbing director and was in charge of the foreign-language versions of the films.
From 1978 on, she also did the archival documentation for her husband's "Golzower Chroniken". When Winfried Junge's long-time cutter Charlotte Beck died, she joined her husband's work and began to edit – from "Diese Golzower – Umstandsbestimmung eines Ortes" (1983/84) on – all of the films together with her husband. Since "Diese Briten – diese Deutschen" (1988), they also did the writing and directing together.
In March of 1991, the Junges ended their work for the DEFA studios. In the following years, they continued their work for "Golzower Chronik" – partly supported by TV stations – for Klaus Volkenborn's "Journal-Film". In 1994, Klaus-Dieter Schmutzer's "a jour Film- und Fernsehproduktion GmbH" became their new production company. Since then, Barbara and Winfried Junge regularly put out feature-length documentary films about the lifes of the individual Golzow protagonists by combining previously unreleased material with new takes.
After the last part of the series, "Eigentlich wollte ich Förster werden – Bernd aus Golzow" (2002/2003), Barbara and Winfried Junge concluded their "Golzow-Zyklus" with the four-part documentary film "Und wenn sie nicht gestorben sind... Die Kinder von Golzow" (2005-2008).
Since 1996, Barbara Junge is a member of Berlin's Akademie der Künste, in the section film and media arts.
Winfried and Barbara Junge are living in Berlin.
Filmography
2007/2008
Und wenn sie nicht gestorben sind - dann leben sie noch heute... Die Kinder von Golzow. Das Ende der unendlichen Geschichte
Director, Screenplay, Editing, Research
2005/2006
Und wenn sie nicht gestorben sind...Die Kinder von Golzow. Teil 1+2
Director, Screenplay, Editing, Research
2002/2003
Eigentlich wollte ich Förster werden - Bernd aus Golzow
Director, Screenplay, Editing, Research
2001/2002
Jochen - ein Golzower aus Philadelphia
Director, Screenplay, Editing, Research
1999/2000
Ein Mensch wie Dieter - Golzower
Director, Screenplay, Editing, Research
1998/1999
Brigitte und Marcel. Golzower Lebenswege
Director, Screenplay, Editing, Research
1996/1997
Da habt ihr mein Leben. Marieluise - Kind von Golzow
Director, Screenplay, Editing, Research
1996/1997
Was geht euch mein Leben an. Elke - Kind von Golzow
Director, Screenplay, Editing, Research
1995/1996
Die Geschichte vom Onkel Willy aus Golzow
Director, Screenplay, Editing, Research
1993/1994
Das Leben des Jürgen von Golzow
Director, Screenplay, Editing, Research
1993
Der DEFA-Komplex: 3. Golzow - Eine unendliche Geschichte?
Participation
1992/1993
Drehbuch: Die Zeiten. Drei Jahrzehnte mit den Kindern von Golzow und der DEFA - Ein Film über einen Film
Director, Screenplay, Editing, Research
1992
…zum Beispiel Willy
Editing
1992
…zum Beispiel Marieluise
Editing
1992
…zum Beispiel Winfried
Editing
1989/1990
...und der Vater blieb im Krieg. Begegnung mit syrischen Waisen
Assistant director, Screenplay, Editing, Research
1989/1990
Nicht jeder findet sein Troja. Archäologen
Assistant director, Screenplay, Editing, Research
1988
Gruß aus Libyen oder Grün ist eine schöne Farbe
Editing
1987/1988
Diese Briten, diese Deutschen 1. Zueinander unterwegs nach Newcastle und Rostock. Zwei Filme - ein Dialog. 1. Von Marx und Engels zu Marks & Spencer
Voice, Director, Screenplay, Editing, Research
1987/1988
Diese Briten, diese Deutschen 2. Zueinander unterwegs nach Newcastle und Rostock. Zwei Filme - ein Dialog. 2. Von Marks & Spencer zu Marx und Engels
Consultant
1986/1987
Das Pflugwesen - es entwickelt sich
Editing
1984/1986
Diese Golzower. Umstandsbestimmung eines Ortes
Screenplay, Editing, Research
1980/1981
Lebensläufe. Die Geschichte der Kinder von Golzow in einzelnen Portraits
Research
1979/1980
Anmut sparet nicht noch Mühe. Die Geschichte der Kinder von Golzow. Eine Chronik
Research
1976
DDR-Magazin [Jg. 1976 / Nr. 06]
Director, Screenplay, Research