Bernadette Heerwagen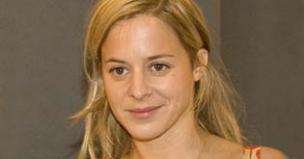 Quelle: Universal Pictures, DIF, © Universal Pictures International
Bei der Pressekonferenz zu "Die kommenden Tage" (13.10.2010, Berlin)
Biography
Bernadette Heerwagen was born in Bonn on June 22 1977. She grew up in Munich, took acting lessons in Los Angeles and also trained as a singer. After appearing in the short "Der Neue" (1992), she made her feature film debut as the titular heroine in Miguel Alexandre"s "Nana", a made-for-TV drama about a terminally ill 16-year-old.

From then on, Heerwagen was cast in numerous TV productions. She won several awards for her performance in "Der Schandfleck", and she also played significant roles in "Hanna – Wo bist Du?" (2001), "Davon stirbt man nicht" (2001) and "Margarete Steiff" (2005). In "Grüße aus Kaschmir", again directed by Miguel Alexandre, she portrayed a young woman whose Pakistani partner drifts into terrorism. For her performance, Heerwagen won a Grimme Award in 2005. She also got rave reviews for her turns in "Der Novembermann" (2007) and "An die Grenze" (2007). Her other works include the British-German co-production "Joy Division" (2006), Margarethe von Trotta"s drama "Ich bin die Andere" and the thriller "Stralsund – Mörderische Verfolgung" (2009).

In 2010, she had a starring role in Lars Kraume"s futuristic thriller "Die kommenden Tage", which depicts a Germany torn apart by economic crisis and terrorism.