Daniel Brühl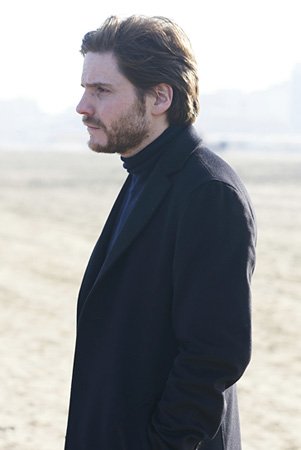 Source: Concorde Filmverleih, DIF, © Concorde Filmverleih GmbH
"Die Augen des Engels" (GB/IT/ES 2014)
Biography
Daniel Brühl was born on June 16, 1978, in Barcelona to TV director Hanno Brühl and his Spanish wife. Brühl did not attend actor's training and started his TV career at the age of 15 in "Svens Geheimnis". At the age of 20, he made his movie debut in a supporting role in "Schlaraffenland" ("Paradise Mall"). After "Schlaraffenland", Brühl played leading roles in "Schule" ("No More School"), in "Das weiße Rauschen" ("The White Sound") and in "Elefantenherz" ("Elephant Heart"), which won him the German film prize.
"Nichts bereuen" ("No Regrets") and "Vaya con dios" both won him the Bavarian film prize. Brühl became highly popular to a wider audience with his role in Wolfgang Becker's immensely succesful comedy about the end of the GDR, "Good Bye, Lenin" (2003), which won him the German and the European film prize. After "Was nützt die Liebe in Gedanken" ("Love in Thoughts") the next (smaller) hit was "Die fetten Jahre sind vorbei" ("The Edukators", 2006) by Hans Weingartner, who already directed "Das weiße Rauschen". There Brühl portrayed an amateur revolutionary and accidental kidnapper. He also played in Michael Klier's "Farland".
From 2004 on, Brühl also starred in international movie productions such as the British film "Ladies in Lavender" and the British-French co-production "Merry Christmas". A great success in spain became his portrayal of the anarchist and bankrobber "Salvador" ("Puig Antich", 2006). Brühl won several awards for his brilliant performance.
In 2009, Brühl was seen in a series of further prestigious film productions, including the World War II drama "Inglourious Basterds", directed by Quentin Tarantino, Julie Delpy's period piece "Die Gräfin" ("The Countess"), and Alain Gsponer's society comedy "Lila, Lila".
He displayed an unusually unsympathetic side in Leander Haußmann's "Dinosaurier - Gegen uns seht ihr alt aus!", playing a ruthless bank manager who dispossesses an elderly woman of her home. At the end of 2010, he appeared in the stellar cast of Lars Kraume's apocalyptic drama "Die kommenden Tage" ("The Days to Come").
This was followed by a custom-made starring role in "Der ganz große Traum" ("Lessons of a Dream"), which was released in February 2011: Brühl plays the idealistic teacher Konrad Koch, who in the year 1874 introduced the then-unknown British sport football to his German pupils.
The same year he joined the international cast of the comedy "Und wenn wir alle zusammenziehen?". He went on to play a brilliant software engineer assigned to build a humanoid robot in the Spanish science-fiction film "Eva" ("Eva – Gefühle kann man nicht programmieren", 2011).
Brühl also had supporting roles in the horror film "Intruders", Julie Delpy's comedy "2 Tage New York" and in the Spanish production "Los Pelayos" (all 2012).
In 2013, he appeared alongside Philip Seymour Hoffman and Rachel Mc Adams in Anton Corbijn's adaptation of John Le Carré's "A Most Wanted Man" and played legendary Formula One driver Niki Lauda in Ron Howard's sports drama "Rush – Alles auf Sieg" (USA/GB/D). He also reunited with director Wolfgang Becker for "Ich & Kaminski", in which he plays a cynical journalist who takes an old painter on a trip through Europe.