Eva-Maria Hagen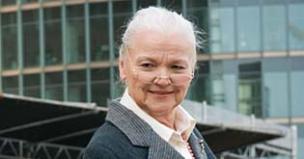 Quelle: Constantin, DIF, © 2009 Constantin Film Verleih GmbH
"Dinosaurier - Gegen uns seht ihr alt aus!" (2009)
Biography
Eva.Maria Hagen was born October 1934 in Költschen an der Warthe and grew up in Kremlin at the edge of Pommern until the age of ten. After graduating from a machine fitter training, she started to attend actor's training in Berlin-Schöneweide in 1952. Already one year later, she played at Berliner Ensemble in a production of Erwin Strittmatter's play "Katzgraben" that was put on stage under the direction of Bertolt Brecht.
In 1954, Eva-Maria Hagen married the author and screen play writer Hans Oliva-Hagen and one year later their daughter Catherina, now better known as Nina, was born. In the following years, Eva-Maria Hagen became one of the most important theatre actresses of the East German theatre scene but at the same time also started her movie and TV career. She made her movie debut as Traudel Gerber in "Vergesst mir meine Traudel nicht" (1957), directed by Kurt Maetzig and until 1965 individuated herself in more than 50 productions, earning a reputation as the "Brigitte Bardot of the German Democratic Republic."
From 1965 on, her relationship with the critical songwriter Wolf Biermann slowed down her career in the GDR considerably. Job opportunities got heavily restricted so that Hagen at times hat to work for provincial theatres. Furthermore, she was discriminated and observed by the State Security until she was finally stripped of her GDR citizenship in 1977.
The actress then went to Hamburg, appeared again on television and in the following years worked in several artistic areas: In 1998, for instance, she celebrated a large success with her autobiography "Eva und der Wolf". Furthermore, she was awarded the Carl Zuckmayr medal for her book. Today, Eva-Maria Hagen lives in Hamburg, Berlin, and in the Uckermark.

The contents of this entry were funded with the support of the DEFA-Stiftung.
Current News
External Links