Fabian Hinrichs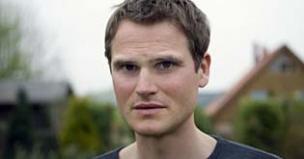 Quelle und © NDR/Marion von der Mehden
"Borowski und die heile Welt" (2009)
Biography
Fabian Hinrichs was born in Hamburg in 1974. He studied acting in Bochum, and from 2000 to 2005 was an ensemble member at the Berliner Volksbühne, where he worked with directors like Fred Kelemen, Christoph Schlingensief and Frank Castorf. Additionally, he also performed at the Schauspielhaus Bochum, the Deutsche Schauspielhaus Hamburg and at the Münchner Kammerspiele.

The leading part in Dito Tsintsadze"s internationally acclaimed drama "Schussangst" marked his debut as a movie actor: Fabian Hinrichs played a lonely civil servant, who develops a manic crush on a young woman. His second feature film was the multi-award-winning and Oscar-nominated "Sophie Scholl – Die letzten Tage", in which he played the part of Hans Scholl. The same year, he also appeared in the dark comedy "Die Bluthochzeit".

Apart from his theater and film work, Fabian Hinrichs also played memorable characters in TV series like "Bella Block" and "Einsatz in Hamburg". In 2009, he was nominated for the German Television Award for his turn as a tormented murder suspect and portrayed a football hooligan in the cinema release "66/67 – Fairplay war gestern".

Another leading role came with "Schwerkraft", the feature film debut of director Maximilian Erlenwein. The psychologically dense drama, which centers around a bank accountant (Hinrichs) who becomes more and more reckless after witnessing the suicide of a client, was awarded the main prize at the 2010 Filmfestival Max Ophüls Preis. Moreover, Hinrichs received the Special Prize of the jury for his extraordinary performance and shortly afterwards was also nominated for the 2010 German Film Prize.