Helmut Herbst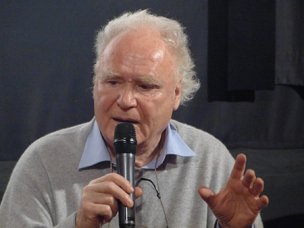 Source: DIF, Photo: Sarah Günter
Helmut Herbst in the Deutsches Filmmuseum, Frankfurt am Main, on Oktober 11, 2012
Biography
Helmut Herbst was born in Waldbröl/Escherdorf in 1934. From 1955 on, he studied art history and painting at Hamburg University and the Hochschule für Bildende Künste (HfbK). In 1959, he went on a fellowship to Paris in order to focus more on his paintings. During his stay, he became a frequent visitor of the Cinémathèque Française where his interest in film started.
In 1958, he completed his first animated film "Multiplane". Via Klaus Wildenhahn, Herbst became acquainted with the makers of the TV program "Panorama", for which he began to create animated segments in 1961. In 1962, he founded his Hamburg-based company cinegrafik. Over the years, the studio had up to nine employees and produced numerous animated short films, for instance for the German edition of "Sesame Street" and made-for-TV children's films, as well as for other TV formats.
In addition to contributing animations to industry films and TV features, he also directed his own films, including "Kleine Unterweisung zum glücklichen Leben" (1963), "Schwarz-Weiß-Rot" (1964) and "Der Hut oder Mondo uovo" (1965). From 1965 on, Herbst also produced independent features by auteur filmmakers like Hellmuth Costard, Harun Farocki and Franz Winzentsen.
In 1967, Herbst became one of the founding members of the Hamburger Filmmacher Cooperative that was itself inspired by US underground cinema. From 1968 on, he created TV documentaries on various topics, including a trilogy on art of the 20th century ("Deutschland DADA", 1968; "John Heartfield, Fotomonteur", 1977; "Happening Kunst und Protest 1968", 1979) and works which concerned themselves the with medium film (for instance "Synthetischer Film oder wie das Monster King Kong von Phantasie & Präzision gezeugt wurde", 1975).
From 1969 until 1979, Herbst was a lecturer at the Deutsche Film- und Fernsehakademie Berlin (dffb). During that time, he worked in film theory and began to publish academic writings. His film "Die Phantastische Welt des Matthew Madson", co-written by Klaus Wyborny, marked his foray into the science-fiction genre and was aired on German TV network ZDF in 1974.
In 1979, Herbst co-founded the Hamburger Filmbüro. While the staff of the cinegrafik studio was downsized to two, Herbst continued to work as a lecturer and beginning in 1980, he taught at the University of the West Indies in Kingston. 1982 saw the theatrical release of his film "Eine deutsche Revolution", and the following year, his animated short film "Sieben einfache Phänomene" won a German Film Award.
In 1985, cinegrafik relocated from Hamburg to the Odenwald region. The same year, Herbst became a professor at the Hochschule für Gestaltung in Offenbach, where he taught until 2000. Meanwhile, he sporadically returned to work as a director and author. In 1992, he made the feature "Die Serpentinentänzerin", starring Ben Becker, Otto Sander and Eva Mattes. Working from a script again co-written by Klaus Wyborny, he directed the animated short "Container Interstellar" in 2001. In 2006, he completed the animated feature "Die Kathedrale der Gefühle" which is based on "Die Phantastische Welt des Matthew Madson".
Helmut Herbst resides in Brombachtal-Birkert.


Filmography
2016/2017
Werner Nekes - Das Leben zwischen den Bildern
Participation
2006
Die Kathedrale der neuen Gefühle
Director, Screenplay
2001
Container Interstellar
Director, Screenplay, Animation
1998
Die kritische Masse
Participation
1997-1999
Die Himmelsbraut
Director
1996-2005
Die Basis des Make-Up III
Miscellaneous
1993
Muggenmelk
Cast
1991/1992
Die Serpentintänzerin
Director, Screenplay
1988/1989
Das musikalische Opfer
Director, Screenplay
1987/1988
Schön war die Zeit
Optical effects camera
1986-1989
Das offene Universum. Open Universe
Optical effects
1985
Betrogen
Co-Producer
1985
Was geschah wirklich zwischen den Bildern?
Director of photography, Animation
1984
Sterne
Editing
1984
Sieben einfache Phänomene
Participation, Director, Screenplay, Director of photography, Miscellaneous, Producer
1984
Das Knarren im Gehäuse
Director
1983
Da ist nirgends nichts gewesen außer hier
Director of photography
1982/1983
Dappi-Film No 1
Director, Miscellaneous, Producer
1982-1984
Bericht von einem verlassenen Planeten
Consultant
1981/1982
Eine deutsche Revolution
Cast, Director, Screenplay, Still photography, Producer
1981
Happening. Kunst und Protest 1968
Director, Screenplay
1980-1982
Zwischen den Bildern. 3. Über die Trägheit der Wahrnehmung
Director, Screenplay, Director of photography
1979
Lebende Photographien auf einem laufenden Bande - Guido Seeber 1879 - 1940
Director, Screenplay, Optical effects camera, Editing, Sound, Producer
1979
Tor 2
Miscellaneous
1979
Drei Versuche über Anton von Weberns Opus 5, 5. Satz
Director, Director of photography, Producer
1976/1977
John Heartfield - Fotomonteur
Director, Screenplay, Commentary, Producer
1976-1978
Der kleine Godard
Consultant
1975/1976
Wir haben nie gespürt, was Freiheit ist
Miscellaneous
1974/1975
Synthetischer Film oder Wie das Monster KING KONG von Fantasie & Präzision gezeugt wurde
Director, Screenplay, Producer
1970-1974
Die phantastische Welt des Matthew Madson
Director, Screenplay, Producer
1970-1973
Der Schneckenfilm
Co-Producer
1970
Eine regnerische Nacht in Potsdam
Director, Producer
1969/1970
Die Teilung aller Tage
Producer
1969
Herr Minister
Producer
1969
Fremde Völker
Producer
1969
Windstill
Producer
1968/1969
Deutschland DADA
Director, Screenplay, Producer
1968/1969
Von der Revolte zur Revolution oder: Warum die Revolution erst morgen stattfindet
Sound
1968
Heute schreiben wir das Jahr 3090
Director, Producer
1968
Blasen
Director
1967/1968
Null-Null-Zero
Producer
1967/1968
Heiligabend auf St. Pauli
Sound
1967
Warum hast du mich wachgeküßt?
Director of photography, Animation, Producer
1967
Staub
Producer
1966/1967
Na und...?
Director, Producer
1966
Das Ginzeck
Producer
1966
Erlebnisse der Puppe
Producer
1965
Der Hafenfilm
Story, Miscellaneous, Producer
1964/1965
Abends, wenn der Mond scheint
Director
1964/1965
Der Hut oder Mondo uovo
Cast, Director, Screenplay, Drawings, Producer
1963/1964
Schwarz-Weiß-Rot
Director, Screenplay, Director of photography, Animation, Editing, Producer
1963
Der große Organisator
Director, Screenplay, Director of photography, Producer
1962/1963
Kleine Unterweisung zum glücklichen Leben
Director, Screenplay, Producer
1962
Kunstraub
Director, Screenplay, Director of photography
1958
Multiplane
Director, Screenplay, Director of photography, Miscellaneous