Jaecki Schwarz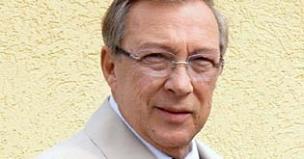 Quelle und © MDR/Wünschirs
Szene aus "Polizeiruf 110"
Biography
Jaecki Schwarz, born February 26, 1946, in Berlin, worked as a chemical technician after finishing school. He was then accepted at Filmhochschule Babelsberg where he was discovered by Konrad Wolf in 1967 for the leading role in his autobiographical film "Ich war neunzehn" ("I Was Nineteen"). Schwarz proved his deep emotional charisma as a young German who returns home in 1945 with the Red Army. After celebrating a huge success with the film, Schwarz graduated from drama school.

Being an already well-known film actor, he became a cast member of Bühnen der Stadt Magdeburg. In 1974, Schwarz went to Berliner Ensemble where he was a cast member until 1997. Besides occasional performances on stage, Schwarz was mainly seen in movie and TV productions. In the multi-part TV movie "Krupp und Krause", Schwarz played young Krause. Furthermore, he starred alongside Manfred Krug in "Weite Straßen – stille Liebe". He then played a supporting role in Egon Günther"s internationally successful film "Der Dritte" ("The Third").

He also played an intellectual, proud student alongside Jutta Hoffmann in Günther"s at the time controversial film "Die Schlüssel". Schwarz nearly became DEFA-Film"s default cast for the role of the nice young man and colleague but was able to shape these characters with deadpan humour and a sense of everyday life. Schwarz played a far more sophisticated role in "Bürgschaft für ein Jahr" as the sponsor of a single mother (Katrin Saß) who at first conveys "the image of an insecure person who comes across as inhibited and nervous and keeps out of everybody else"s affairs. But he noticeably engages more and more with his "welfare case" and becomes a reliable ally (thus increasing the contrast to the familial lack of initiative and to the growing lethargy of his own wife)" (Schütt, 1981).

In 1983, Schwarz played the role of pastor Bernhoff in the TV production "Vertreibung aus dem Paradies" that was not finished after director Celino Bleiweiß fled to West Germany. With few exceptions, for instance as the father of 15-year old Henning, who is devastated by his girlfriend"s death, in "Abschiedsdisco", Schwarz continued to play certain character types: civil servants and soldiers, for instance, in "Erster Verlust" based on Brigitte Reimann"s story "Die Frau am Pranger". Policemen in more or less exposed positions almost became his signature role type.

Schwarz then became popular with TV entertainment such as the TV series "Gefährliche Fahndung" (1975 to 1978) and "Der Spuk von draußen" (1985 to 1987), as well as the TV series "Schauspielereien" and "Polizeiruf 110". After the German reunification, Schwarz was able to continue his acting career without interruption with appearances in TV series like "Spreewaldfamilie" (1990), "Liebling – Kreuzberg", and "Praxis Bülowbogen" (1992/93), as well as in numerous TV crime series. In 1996, he finally became inspector Schmücke in "Polizeiruf 110" who is always clad in a suit and stolidly carries out his duty.

From the mid-1990s on, Schwarz was regularly seen as barkeeper "Sputnik" in the TV crime series "Ein starkes Team", and as professor Friedländer in the TV hospital series "Für alle Fälle Stefanie". Schwarz also starred in numerous TV movies but occasionally participated in more ambitious productions like Hans-Christoph Blumenberg"s "Deutschlandspiel" and Wolfgang Panzer"s four-part TV movie "Liebesau – die andere Heimat".

Jaecki Schwarz lives in Berlin.