Jenny Gröllmann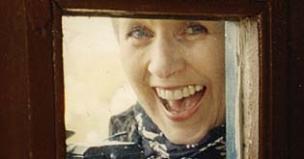 Quelle: defa-spektrum, © Michael Weidt
"Ich will da sein - Jenny Gröllmann" (2008)
Biography
Jenny Gröllmann was born February 5, 1947, in Hamburg, as the daughter of the production designer Otto Gröllmann and his wife Gertrud, a theatre photographer. In 1949, the family relocated to Schwerin, and in 1955 further moved to Dresden. While still at school, the 14-year old Gröllmann played the title role in Brecht's "Die Gesichte der Simone Machard". From 1963 to 1966, she studied at Staatliche Schauspielschule Berlin and became a member of the cast of Maxim Gorki Theater in 1966.
From 1966 on, Gröllmann also worked for film and TV productions. After her movie debut as a student in Ulrich Thein's part "Die Prüfung" for the episodic film "Geschichten jener Nacht", Konrad Wolf cast her in a supporting role as a shy German girl in "Ich war neunzehn" ("I Was Nineteen"). In contemporary DEFA and TV productions, Gröllmann most often portrayed confident, cheerful, and sometimes snappish young women.
Gröllmann played her first leading role in Ingrid Reschke's "Kennen Sie Urban?" based on Ulrich Plenzdorf's screen play. She also played the leading role of Betty Lienau in the third part of the TV series "Eva und Adam": Betty, a girl from a broken home, comes out on top against adverse conditions though suffering several setbacks. In Ulrich Thein's TV multi-part TV movie "Broddi", Gröllmann starred as Christine, the female counterpart to the title hero Jochen Brodalla (Christian Grashof), a confident, yet needy girl that falls in love with the social outcast without prejudice.
In 1981/82, Ulrich Weiß cast her as Renate for his unconventional film version of Willi Bredel's German resistance novel "Dein unbekannter Bruder" ("Your Unknown Brother"). In Herrmann Zschoche's romantic Hölderlin portrait "Hälfte des Lebens", Gröllmann played Susette Gontard, the poet"s married lover. She also caused a stir with her urgent portrayal of an alcoholic in Helmut Krätzig's "Polizeiruf 110" crime series episode "Unheil aus der Flasche".
During the following years, Gröllmann mainly appeared in TV movies and series and became famous for her part as attorney Isenthal in the TV series "Liebling Kreuzberg". She also regularly appeared in "Tatort" episodes and in the TV series "Unser Lehrer Doktor Specht".
From 1984 to 1990, Jenny Gröllmann, the mother of Jeanne Gröllmann and Anna Maria Mühe, was married to actor Ulrich Mühe, who later accused her that she had been a collaborator of the Stasi, the East German secret police, and had been spying on him. In 2006, Mühe was prohibited to further express his allegations because there was no authoritative evidence of Gröllmann's collaboration.
Gröllmann had suffered from cancer already in 1999 but was able to temporarily fight off the disease. But on August 9, 2006, Jenny Gröllmann died in Berlin from cancer.
Current News
External Links