Jessica Schwarz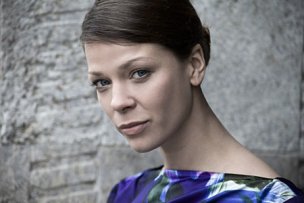 Source: orangepop artist management, Foto: Michael Mann
Biography
Jessica Schwarz was born May 5, 1977, in Erbach in the Odenwald and grew up in Michelstadt. In 1993, "Bravo" readers voted her to be the "Bravo" girl. She then worked as a model and did on-set clips for the show "film ab" on the TV music channel VIVA. That was when she met director Benjamin Quabeck who gave her the part of the leading actress in his debut feature film "Nichts bereuen" ("No Regrets"). This love story saw Schwarz alongside Daniel Brühl who then also became her partner in real life. In the following years, Schwarz starred in Quabeck's "Verschwende deine Jugend" ("Play it Loud!", 2003), and two films by Dominik Graf: "Die Freunde der Freunde" (2002; which won a Grimme prize) and "Der rote Kakadu" ("The Red Cockatoo", 2005). The part of "November" in Hendrik Hölzemann's "Kammerflimmern" ("Off Beat", 2004) won her the 2004 Bavarian film prize as "best actress".
Schwarz was also praised for her performance as the epitome of a seductress who herself is yearning for love in the title role of Uwe Janson's adaptation of Wedekind's "Lulu" (2006). In Torsten C. Fischer's "Der Liebeswunsch" ("Impossibly Yours"), Schwarz plays a woman who loses herself in her longing for love.
In 2006, Schwarz was also seen in Tom Tykwer's adaptation of Patrick Süskind's best-selling novel "Das Parfum – Die Geschichte eines Mörders" ("Perfume – The Story of a Murderer") alongside several well-known actors including Dustin Hoffman. In the same year, Schwarz starred in the children's film "Die Wilden Hühner" ("Wild Chicks") and was also seen in the film's two sequels that opened in cinemas in 2007 and in 2009, respectively.
In 2008, Schwarz played the role of Antonie Buddenbrook in Heinrich Breloer's elaborate film version of Thomas Mann's classic novel "Buddenbrooks" ("Buddenbrooks – The Decline of a Family"). In the following year, she was seen in Torsten C. Fischer's ARD biopic "Romy" in the title role of legendary actress Romy Schneider. In 2009, she also played the role of the wife of a depressive painter (Mads Mikkelsen) in Anno Saul's thriller "Die Tür" ("The Door").
Critical praise was bestowed upon her for her performance in Florian Cossen's Award-winning drama "Das Lied in mir" ("The Day I Was Not Born", 2010): She plays a young woman who is led to the secret of her family background by a childrens' song. Also impressive was her turn as a no-frills physician in the 2011 release "Der Mann, der über Autos sprang" ("The Man Who Jumped Cars"), co-starring Robert Stadlober and Anna Schudt. Next came the childrens' film "Als der Weihnachtsmann vom Himmel fiel" ("When Santa Fell to Earth"), in which Schwarz plays a stressed-out mother.