Kerstin Stutterheim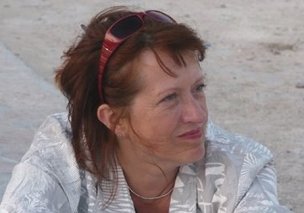 Source: Kerstin Stutterheim
Biography
Kerstin Stutterheim was born in East-Berlin on May 17th 1961. She studied theatre and cultural communications in Leipzig and at the Humboldt University, Berlin. After graduating, she worked in television and started directing her own documentaries, including "Die Wäscherei - ein Herz für Umwelt und Gewebe" and "Original Wolfen. Aus der Geschichte einer Filmfabrik". With co-director Niels Bolbrinker, she completed "Bauhaus – Mythos und Moderne" (1998) and "Die Thuranos – Leben auf dem Drahtseil" (2003).
While working as a filmmaker, she also completed her post-graduate studies at the philosophy department of the Humboldt University, receiving her PhD for her study "Okkulte Hintergründe in dokumentarischen Filmen des 'Dritten Reiches'". From 2001 to 2006, she taught as professor for film and video in Würzburg, followed by a position as professor at the HFF Konrad Wolf in Potsdam.
In 2009, Stutterheim and Bolbrinker presented their documentary "Fliegen und Engel", a portrait of Russian artist Ilya Kabakov.
Filmography
2015
As if we were somebody else
Script editor
2012
Mit Licht gebaut – Ein Lebensschiff von Hans Scharoun
Producer
2009
Fliegen und Engel
Director, Screenplay
2007/2008
Die Natur vor uns
Script editor
2003
Die Thuranos
Director, Screenplay, Editing
1999-2001
it don' t mean a thing if it ain' t got that swing
Co-Director, Lighting design, Editing
1998/2009
Bauhaus - Mythos der Moderne
Director, Screenplay
1996-1999
Mythos, Macht und Mörder
Director, Screenplay
1995
ORiginal WOlfen
Director, Screenplay, Interviews
1995
Politische Landschaft
Director, Producer
1993
Innen Aussen
Miscellaneous
1992/1993
Die Wäscherei - ein Herz für Umwelt und Gewebe
Director, Screenplay