Klaus Maria Brandauer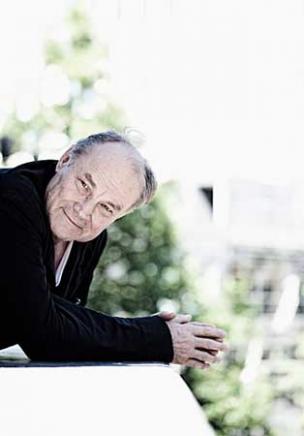 Source: Klaus Maria Brandauer, Photo: Christof Mattes
Klaus Maria Brandauer (2012)
Biography
Klaus Maria Brandauer was born June 22, 1943 in Bad Aussee, Austria. After graduating from school in 1962, he enrolled at the State University of Music and Performing Arts in Stuttgart where he studied for two terms. In 1963, he began working at the Landestheater in Tübingen. One year later, he switched to the Landestheater Salzburg, where he made his debut as a stage director in 1965 with a production of Heinz Coubier's "Aimée oder Der gesunde Menschenverstand". 1966: Schauspielhaus, Düsseldorf. 1968: Theater in der Josefstadt, Vienna. Since 1972: Burgtheater, Vienna. In addition to these engagements, Brandauer made guest performances in Munich and at the Salzburg Festival.
In the 1970s, he became one of the most popular German-speaking stage actors. His first TV productions consisted almost solely of shootings of stage performances or stage play adaptations. He made his film debut in 1971 with Lee H. Katzin's spy thriller "The Salzburg Connection". In 1980/81, he portrayed the actor Hendrik Höfgen in "Mephisto" (István Szabó), a film adaptation of Klaus Mann's roman a clef about Gustaf Gründgens. He continued to work with Szabó on "Oberst Redl" ("Colonel Redl", 1984) - which won the German Film Award - and "Hanussen" (1987).
After "Mephisto" was awarded the 1981 Academy Award for Best Foreign Language Film, Brandauer was able to start an international career. In the 1983 Bond adventure "Never Say Never Again" (Irvin Kershner) he played the villain opposite Sean Connery. In Sydney Pollack's "Out of Africa" he starred as Karen "Tania" Blixen's unloved husband.
In two German movies dealing with the Nazi era he played sympathetic characters: In "Das Spinnennetz" (Bernhard Wicki) and in "Georg Elser – einer aus Deutschland", which he directed and in which he starred as the would-be assassin of Adolf Hitler. "Burning Secret" (Andrew Birkin) and "The Russia House" (Fred Schepisi) helped Brandauer to assert himself in the international movie business.
His second feature as a director, an adaptation of Thomas Mann's novella "Mario and the Magician" in which he also starred as the diabolic seducer, was a failure. Afterwards, Brandauer predominantly starred in international productions. In 1996, Brandauer received an honorary doctorate for acting from the University of Tel Aviv, Israel. In spring 1997, he directed Brahms and Tieck's "Magelone" in Meiningen, Germany.
As a screen actor, Brandauer subsequently took the leading role in the biopic "Rembrandt" in 1999, and in 2001 he played Julius Caesar in "Vercingétorix". He appeared in "Jedermanns Fest" (2002) and in Francis Ford Coppola's "Tetro" (2009). In 2011, he starred opposite Sebastian Koch in the Swiss-German thriller "Manipulation", and a year later, he took on the title role in Anton Svoboda's "The Strange Case of Wilhelm Reich".
Apart from his stage and film career, Brandauer also has established himself as a renowned author and lecturer, and in 1991, he published the autobiography "Das Schwerste ist am leichtesten". Moreover, Brandauer is a professor at the Max-Reinhardt-Seminar in Vienna.