Maren Eggert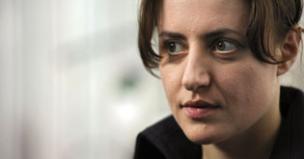 Quelle und © NDR/Marion von der Mehden
"Borowski und die Sterne" (2009)
Biography
Maren Eggert was born in Hamburg on January 30 1974. Between 1994 and 1998, she studied acting at the renowned Otto-Falckenberg-Schule in Munich. Subsequently, she appeared in several stage productions in Zurich and Bochum, before she joined the ensemble of the acclaimed Thalia-Theater in 2002. 2009, after seven very successful years in Hamburg, she became a member of the Deutsche Theater ensemble in Berlin.
Maren Eggert made her screen debut in 1997 with a small supporting role in Rainer Kaufmann's "Die Apothekerin" ("The Pharmacist"). Taking time off from her theatre work, she continued to act in TV and film productions, including the thriller "Das Experiment" ("The Experiment", 2001) and Angela Schanelec's acclaimed drama "Marseille". Moreover, her recurring role as a police psychologist in the TV series "Tatort" further added to her popularity with mainstream audience.
For her portrayal of a mentally disturbed woman struggling for a normal life in the TV drama "Die Frau am Ende der Straße" (2006), Eggert and her co-star Matthias Brandt won the German Critics Award. She had a starring role in Dominik Graf's period piece "Das Gelübde" ("The Vow"), which depicts the fateful encounter between poet Clemens Brentano and the nun Anna Katharina Emmerick.
In 2009, she appeared in Angela Schanelec"s "Orly", which premiered at the 2010 Berlin International Film Festival. The same year, she received a nomination for the Bavarian Television Award for her performance as a police psychologist in the "Tatort" episode "Borowski und die Sterne" (2009).
In the TV thriller "Das Ende einer Maus ist der Anfang einer Katze" (2011), she had a key role as a deceivingly shy femme fatale. After her turn as the alleged lover of a theatre director in Robert Thalheim's tragicomedy "Eltern" ("Parents", 2013), Eggert's performance as the estranged wife of a reclusive man in "Nichts passiert" (CH 2015) got very positive reviews.
Eggert was one of the leads in Angela Schanelec's "Der traumhafte Weg" ("The Dreamed Path", DE/GB/GR 2016), which premiered at the 2016 Locarno IFF.