Marie Bäumer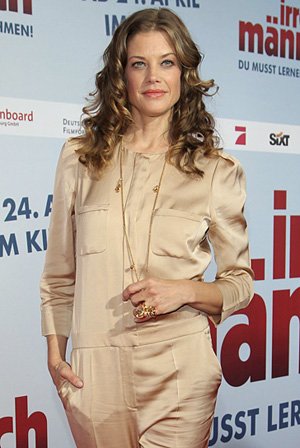 Source: Constantin Film Verleih, DIF, © 2014 Constantin Film Verleih GmbH, Gisela Schober
Marie Bäumer at the premiere of "Irre sind männlich" in Munich on April 10, 2014
Biography
Marie Bäumer was born May 7, 1969, in Düsseldorf. After finishing school, she studied at Scuola Dimitri in Tessin and at Hamburg's "Studio 033". Bäumer then attended Hochschule für Musik und darstellende Kunst in Hamburg and finished her actor's training in 1997 under Jutta Hoffmann. Already during actor's training, Bäumer performed in several productions at Hamburger Kammerspiele.
In 1995, Bäumer made her highly praised movie debut in Detlev Buck's comedy "Männerpension" ("Jailbirds"). One year later, Bäumer, who was compared to the young Romy Schneider by several critics, proved her versatility in the horror thriller "Sieben Monde" ("Night Time"). In 2001, Bäumer made her breakthrough performance in the role of bar singer Uschi in "Der Schuh des Manitu" ("Manitou's Shoe"). In "Der alte Affe Angst" ("Angst", 2003) she again proved to be a subtle character actress: Her portrayal of nurse Marie who fights for her husband's love won Bäumer the Bavarian film prize and the prize of Film Critics. Beside her movie work, Bäumer is regularly seen in elaborate TV productions like Roland Suso Richter's "Dresden" and Stefan Krohmer's "Ein toter Bruder".

After a little Role in the Oscar-winning drama "Die Fälscher" ("The Counterfeiters", 2007) by Stefan Ruzowitzky Marie Bäumer's next leading role in the cinema was in Nicolai Rohde's "10 Sekunden" ("10 Seconds", 2008). As the wife of a flight controller feeling guilty for an air crash she tries to escape this emotional burden by beginning an affair.

In her subsequent film, Bäumer also had to live through an emotionally exceptional situation: In Sebastian Schipper's "Mitte Ende August" ("Sometime in August", 2009), she played a woman, happily in love, whose feelings are put to a test by her boyfriend's brother.
In 2010, Bäumer's performance in Dominik Graf's award-winning mini-series "Im Angesicht des Verbrechens" as a mobster wife who takes care of "family business" after her husband has died was critically acclaimed. Portraying Hedda Adlon in the three-part TV feature "Das Adlon. Eine Familiensaga" (2012) earned her the Austrian film prize "Romy" as the "most popular actress".
In 2013, Marie Bäumer starred in two ambitious feature films: In Denis Dercourt's psychodrama "Zum Geburtstag" ("The Pact") she played a bourgeois wife hard-pushed by an old pact between her husband and one of his former schoolmates. In "Der Geschmack von Apfelkernen" ("The Taste of Apple Seeds") she was cast as a woman confronted with a tragic chapter of family history.