Miguel Gomes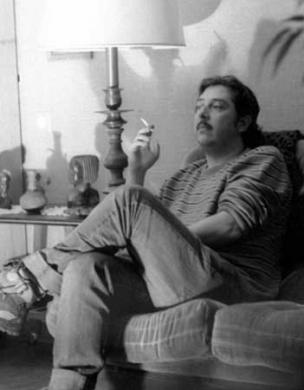 Source: 62. Internationale Filmfestspiele Berlin (catalogue)
Biography
Miguel Gomes, born in Lisbon, Portugal in 1972, studied film at Escole Superio de Teatro e Cinema in Lisbon from 1996 to 2000. He was awarded Best director at the international short film festival in Vila do Conde, Portugal, for his first short "Entretanto" (1999). The film also won him the first prize at the ISFF Oberhausen. After another four short films, Gomes presented his first feature length film "A cara que mereces" at the Lisbon festival IndieLisboa in 2004 and was promptly awarded the critics' award as well as the award for Best Camera.
At the Cannes IFF in 2009, Gomes's second feature "Aquele Querido Mês de Agosto" ("Our Beloved Month of August") premiered in the section 'Quinzaine des Réalisateurs', a poetic film that includes documentary sequences on different Portuguese emigrants who return to their home regions for the summer. It also won about a dozen prizes on various international festivals and became one of the most successful domestic films of its time at the Portuguese box office.
Still, it took him four years until Gomes completed his next film: In 2012, he was invited to the Berlin IFF with the international coproduction "Tabu – Eine Geschichte von Liebe und Schuld" ("Tabu"). The film which is rife with references to film history tells the story of an old Portuguese woman who, shortly before her death, looks back on a romantic adventure she lived through during colonial times. Much like Gomes's previous films, "Tabu" showcases his idiosyncratic and poetic style. In Berlin it won the FIPRESCI award as well as the Alfred-Bauer-Preis. Other film awards at various festivals followed.
In the Cannes section 'Quinzaine des Réalisateurs' of 2015, Gomes presented his film trilogy "1001 Nacht" ("Arabian Nights"). In the individual parts "Der Ruhelose" ("The Restless One"), "Der Verzweifelte" ("The Desolate One") and "Der Entzückte" ("The Enchanted One"), he uses the structure of the Arabian folk tale "One Thousand and One Nights" and employs it on modern day Portugal that has been hit hard by the Euro crisis. After touring additional festivals in Munich, New York, Hong Kong, Karlovy vary among others, the award-winning trilogy opened in German theaters in the summer of 2016.
Filmography
2014/2015
1001 Nacht, Teil 1: Der Ruhelose
Cast, Director, Screenplay, Editing
2014/2015
1001 Nacht, Teil 2: Der Verzweifelte
Director, Screenplay, Editing
2014/2015
1001 Nacht, Teil 3: Der Entzückte
Director, Screenplay, Editing
2014/2015
1001 Nacht
Director, Screenplay, Editing
2013
Redemption
Director, Screenplay, Editing
2011/2012
Tabu - Eine Geschichte von Liebe und Schuld
Director, Screenplay, Editing