Otto Sander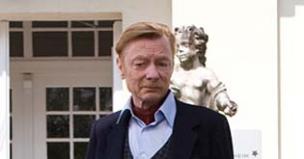 Quelle: Neue Visionen, © Mafilm/Conny Klein
"Bis zum Horizont, dann links!" (2011)
Biography
Otto Sander was born in Hannover on June 30th, 1941. After graduating from school and completing the mandatory service in the German army, he enrolled at the University of Munich, where he studied theatre, literature, art history and philosophy.
In 1964, Sander started taking acting classes at the Otto-Falckenbergschule, and in 1965 he gave his stage debut at the Kammerspiele in Düsseldorf. Claus Peymann brought him to the Freie Volksbühne in Berlin in 1968, and from 1970 on, Sander performed at the Schaubühne am Halleschen Ufer. Working with maverick theatre directors like Peymann and Stein, Sander established himself as one of the prolific German stage actors. Throughout the 1970s, he was part of some of the most influential stage productions, among them spectacular works like Robert Wilson's "Death, Destruction & Detroit".
Otto Sander already made his screen debut in 1964, starring in Roland Klick's short "Ludwig". In the 1970s, Sander appeared more frequently in feature films: He was cast in Eric Rohmer's "Die Marquise von O." (1975/76) and also played in Volker Schlöndorff's Award-winnng drama "Die Blechtrommel". He gained great popularity thanks to his memorable performance as a submarine engineer in Wolfgang Petersen's international hit "Das Boot".

Sander was now in high demand as a movie actor: Alongside Bruno Ganz he starred in Wim Wenders' acclaimed drama "Der Himmel über Berlin", and he also got to play Karl Liebknecht in Margarethe von Trotta's "Rosa Luxemburg".
Sander continued working in auteur as well as mainstream cinema. Besides other productions with Wenders, von Trotta and Schlöndorff, he also starred in Joseph Vilsmaier's "Comedian Harmonists" (1997) and, as the narrator, in Tom Tykwer's "Das Parfum. Die Geschichte eines Mörders". Proofing his comedic talent, he returned to the big screen in 2012 playing the main character in Bernd Böhlich's "Bis zum Horizont, dann links!".
Apart from his work in feature films and in the theatre, Sander also frequently performed in high-profile television productions. Moreover, his distinctive voice made him a regular presence in dubbing, on audio books and in literary lectures.
On September 12, 2013 Otto Sander died at the age of 72.
Filmography
2012/2013
Roland Klick - The Heart is a Hungry Hunter
Participation
2012
Schuld der Erben
Cast
2011/2012
Bis zum Horizont, dann links!
Cast
2009/2010
Das Leben ist zu lang
Cast
2006/2007
Das Herz ist ein dunkler Wald
Cast
2006-2008
Krabat
Voice
2005/2006
Das Parfum - Die Geschichte eines Mörders
Cast
2005-2007
Der kleine König Macius
Voice
2005
Little Spoon
Cast
2004
Die Baroness und das Guggenheim
Voice
2003/2004
Die Spieler
Cast
2003
Werner - Gekotzt wird später!
Voice
2003
Donau, Duna, Dunaj, Dunav, Dunarea
Cast
2003
Der Käferjunge
Voice
2002/2003
PiperMint ...das Leben, möglicherweise
Voice
2002
Tödliches Vertrauen
Cast
2002
Sterne, die nie untergehen - Atlantic Affairs
Cast
2000/2001
Sass
Cast
2000/2001
100 Pro
Voice
2000
Lieber Fidel. Maritas Geschichte
Voice
1999/2000
Marlene
Cast
1999
Ein Tag im September
Voice
1998/1999
Der Einstein des Sex
Cast
1998/1999
Männer sind wie Schokolade
Cast
1998
Stan Becker - Auf eigene Faust
Cast
1998
Einsteins Ende
Cast
1997/1998
Der Laden
Voice
1997/1998
Das Wunder von Wustermark
Cast
1997/1998
Bin ich schön?
Cast
1997-1999
Wilhelm II. - Majestät brauchen Sonne
Voice
1997
Liebe Lügen
Cast
1997
Comedian Harmonists
Cast
1997
Im Platz
Voice
1996
Eiskalt
Cast
1996
Abendbrot
Cast
1996
Gespräch mit dem Biest - Conversation With the Beast
Cast
1996
Kondom des Grauens
Cast
1996
Truck Stop
Cast
1995
Matulla & Busch - Zwei Alte pokern hoch
Cast
1995
Nikolaikirche
Cast
1995
Nr. 73
Cast
1994/1995
Das Loch
Cast
1993/1994
Das Versprechen
Cast
1993/1994
Totes Gleis
Cast
1993/1994
Hölderlin-Comics
Cast
1993
Bauernschach
Cast
1992/1993
Der Kinoerzähler
Cast
1992/1993
In weiter Ferne, so nah!
Cast
1992/1993
Schlußchor
Cast
1992/1993
Inge, April und Mai
Cast
1992/1993
Ludwig 1881
Cast
1992/1993
Zeit der Götter. Der Bildhauer Arno Breker
Voice
1991/1992
Eine verlorene Liebe
Cast
1991/1992
Chaupi Mundi - Die Mitte der Welt
Voice
1991/1992
Mit tödlicher Sicherheit
Cast
1991/1992
Die Serpentintänzerin
Cast
1991-1993
Der olympische Sommer
Voice
1991
Stuppi & Wolf
Cast
1990-1992
Das untergehende Vaterland
Participation
1990
Zeit der Rache
Cast
1989/1990
Amaurose
Cast
1989
Wie du mir ...
Cast
1989
Venedig: traumhaft billig!
Cast
1988/1989
Der Bruch
Cast
1987
Sentimental Journey
Cast
1987
z.B. Otto Spalt
Cast
1987
Wahnfried
Cast
1986/1987
Der Himmel über Berlin
Cast
1986/1987
Close Up
Cast
1986
Kurz vor Schluß
Cast
1985/1986
Rosa Luxemburg
Cast
1985/1986
Caspar David Friedrich. Grenzen der Zeit
Cast
1985/1986
Miko - Aus der Gosse zu den Sternen
Cast
1983
Der Mord mit der Schere oder Das Mysterium von Heiligwalck
Cast
1983
Eine Liebe in Deutschland
Cast
1981/1982
Gedächtnis. Ein Film für Curt Bois und Bernhard Minetti
Cast, Director, Screenplay, Interviews
1981/1982
Wer spinnt denn da, Herr Doktor?
Cast
1981
Der Mann im Pyjama
Cast
1981
Kalt wie Eis
Cast
1981
Recycling
Cast
1980/1981
Das Boot
Cast
1980/1981
Im Schlaraffenland. Ein Roman unter feinen Leuten
Cast
1980/1981
Ein Fall für Otto Spalt
Cast
1980
Legen wir zusammen
Cast
1980
Gesucht wird... Drei Geschichten um nicht ganz ehrenwerte Herren
Cast
1980
Rückwärts
Cast
1980
Die Ursache
Cast
1979/1980
Der Mond scheint auf Kylenamoe
Cast, Screenplay
1979/1980
Palermo oder Wolfsburg
Cast
1979
Mitternacht oder kurz danach
Cast
1978/1979
Die Blechtrommel
Cast
1978/1979
Wie es euch gefällt
Cast
1978/1979
Trilogie des Wiedersehens
Cast
1978/1979
Phantom
Cast
1978
Shakespeares Memory
Cast
1977/1978
Die Ängste des Dr. Schenk
Cast
1977
Die ganz begreifliche Angst vor Schlägen
Director
1977
Heinrich Zille. Bilder aus seinem Leben
Cast
1976
Vier gegen die Bank
Cast
1975/1976
Die Marquise von O...
Cast
1975
Sommergäste
Cast
1975
Erzählen
Cast
1974/1975
Meine Sorgen möcht' ich haben
Cast
1974/1975
Lehmanns Erzählungen
Cast
1974/1975
Die Wahrheit wird uns freimachen
Cast
1974
Der Fall Ezra Pound
Cast
1973/1974
Einer von uns beiden
Cast
1973/1974
Ermittlungen gegen Unbekannt
Cast
1969/1970
Nicht fummeln, Liebling
Cast
1963/1964
Ludwig
Cast