Otto Waalkes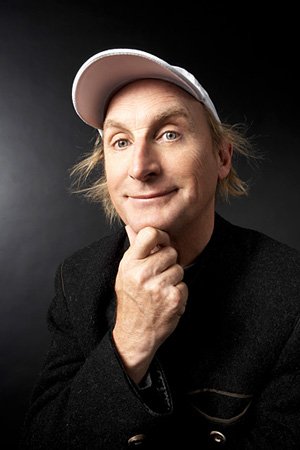 Source: Otto Waalkes, Photo: Peter Hönnemann
Biography
Otto Waalkes, born July 22nd 1948 in Emden (Eastern Frisia), has his first public performances as a musician with the band "The Rustlers" in 1964. While studying in Hamburg at Hochschule für Bildende Künste, he carries on to perform as a musician and plays in clubs and bars and earns the most applause for his comical fillers between the songs. In 1972 he has his first big concert at Audimax of Hamburg University – and mainly performs parodies and jokes. The recordings of this performance he sells on an album with his therefore founded label "Rüssl Räckords". In 1973 WDR gives Waalkes his first own TV-Show "Otto-Show", where he presents and plays Sketches framed by his cartoons of "Ottifanten" – funny little elephants.
With the backing of authors Robert Gernhardt, Bernd Eilert and Peter Knorr of the satirical magazines "Pardon" and "Titanic", the next successful stations in Waalkes' career are several sequels to his TV-show (which won several prizes), the album "Oh, Otto" (1975, awarded "Platin-Schallplatte" in 1979) and the books "Das Buch Otto" (1980) and "Das zweite Buch Otto" (1984). His show "Hilfe! Otto kommt!" for ZDF is awarded a silver Grimme-Preis in 1983. Waalkes together with his manager Hans Otto Mertens also produces "Ronnys Popshow" for ZDF.
In 1985 Waalkes stars in his first feature film "Otto – Der Film" – co-written by his approved team and the most successful German production of the year. "Otto – Der neue Film" (1987) again presents Waalkes as a slob in love. With dwindling success Waalkes continues the series of Otto-films in the following years. Better results he achieves with several production companies and the merchandising articles of Ottifanten.
After a long time without touring he is again performing on stage on his 1995 tour, resulting in the album "Otto – Live". In 2001 he tours again with his program "Only Otto", this time without band, just playing his guitar. In 2004 Waalkes together with many TV comedians parodies classic fairy tales in the film "7 Zwerge – Männer allein im Wald". Waalkes produces, writes and plays four roles in this huge box office hit. Two years later the sequel "7 Zwerge – Der Wald ist nicht genug" starts in German cinemas. In 2010, his next genuine "Otto"-film "Otto's Eleven" is released.
Filmography
2017
Hilfe, ich hab meine Eltern geschrumpft
Cast
2016
Die Höhle von Eppendorf - Das legendäre Onkel Pö
Participation
2015
Kartoffelsalat
Cast, Executive producer
2014/2015
Hilfe, ich hab meine Lehrerin geschrumpft
Cast
2012-2014
Der 7bte Zwerg 3D
dubbed by, based on, Producer
2010
Otto's Eleven
Cast, Screenplay, Producer
2005/2006
7 Zwerge - Der Wald ist nicht genug
Cast, Screenplay, Producer
2003/2004
7 Zwerge - Männer allein im Wald
Cast, Screenplay, Producer
1999/2000
Otto - Der Katastrofenfilm
Cast, Co-Director, Screenplay
1999-2001
Kommando Störtebeker
Screenplay
1992
Otto - Der Liebesfilm
Cast, Director, Screenplay, Music
1989
Otto, der Außerfriesische
Cast, Director, Screenplay
1987
Otto - Der neue Film
Cast, Director, Screenplay, Music, Choreographer
1985
Otto - Der Film
Cast, Director, Screenplay