Richy Müller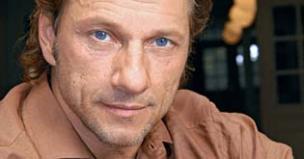 Quelle und © SWR/Schweigert
Als Kriminalhauptkommissar Thorsten Lannert in der TV-Reihe "Tatort"
Biography
Richy Müller, born September 26, 1955, in Mannheim, started a toolmaker's training after finishing school but friends incited him to attend Bochum's drama school. Müller made his movie debut in 1978 in Marianne Lüdcke's TV movie "Die große Flatter". The portray of a young outsider, who grows up in an area of homeless people in Berlin und becomes a criminal, was his over-night breakthrough. In the following years, Müller worked with directors like Reinhard Hauff ("Der Mann auf der Mauer", 1982), Wolf Gremm ("Kamikaze 1989", 1982), and Roland Emmerich ("Das Arche Noah Prinzip" - The Noah's Ark Principle, 1984) but mainly performed on stage during the 1980s.
At the beginning of the 1990s Müller returned to the cinema and starred in "Einer meiner ältesten Freunde" (1994) and "Die Apothekerin" (1997), both directed by Rainer Kaufmann, "Das Leben ist eine Baustelle" (Life Is All You Get, 1997) directed by Wolfgang Becker, among others. He also made numerous appearances in TV productions such as the "Tatort" crime series. In 2000, Müller was widely given credit for his portray of a father with a terrorist past in Christian Petzold's "Die innere Sicherheit" (The State I Am In). In Nicolai Rohde's TV movie "Zwischen Nacht und Tag" (Between Night and Day, 2004), Müller made a brilliant performance as the driver of a subway train whose life is shattered when a woman commits suicide right before his eyes. On the big screen, Müller was last seen in striking minor roles, for instance in Thomas Durchschlag's "Allein" (Alone, 2004), in "Vier Minuten" (Four Minutes, 2006) by Chris Kraus, or in Gregor Schnitzler's "Die Wolke" ("The Cloud", 2006).
He also proved his versatility as an actor in the children's and teen TV films "Die Schatzinsel" ("Treasure Island", 2007) and "Der Froschkönig" (2008) as well as in the relationship drama "Ein verlockendes Angebot" (2007), also starring Christiane Paul. Since 2008, Müller plays chief inspector Thorsten Lannert in the SWR episodes of the TV crime series "Tatort".
Again under the direction of Chris Kraus Richy Müller played in the period piece "Poll" that opened in cinemas in the beginning of 2011, and was awarded a "Lola" for Best Supporting Actor at Deutscher Filmpreis 2011.