Sherry Hormann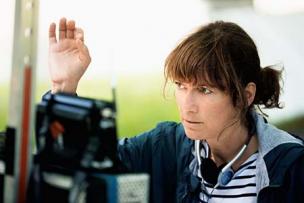 Source: StudioCanal, DIF, © StudioCanal, Photo: Jim Rakete
On the set of "Anleitung zum Unglücklichsein" (2012)
Biography
Sherry Hormann was born in Kingston, New York, April 20, 1960 as the daughter of a German paintress and an American Jazz-musician. The family moved to Germany in 1966, where Hormann went to school. Aiming to become a concert pianist, she changed her plans when she was 19 and went to the Academy of Television and Film in Munich (HFF). After graduation she worked for Bavaria and Neue Constantin Film as an assistant producer. Hormann was involved in several television and feature films such as "Drei gegen Drei" (1985) and "Die Beute" (1988). Since 1986 she worked as a director, screenwriter and production designer.
Her screenplay debut "Tiger, Löwe, Panther", directed by Dominik Graf, won the prize of the Academy for Performing Arts, Baden-Baden. She also participated in Dominik Graf's "Spieler" (1989). Sherry Hormann and Dominik Graf lived together for several years and have a daughter.
Her directorial debut was "Leise Schatten" ("Silent Shadow", 1991), which was awarded the Max Ophüls Prize in Silver as Best Film, the German Film Prize in Silver for Best Film and two in Gold for Best Actress (Ann-Gisel Glass) and Best Film Music (Enjott Schneider).
In the following years Hormann had great success with the feature comedies "Frauen sind was Wunderbares" (1994) and "Irren ist männlich" (1996). Subsequently, she produced television films, such as "Die Cellistin" (1998), "Scheidung auf amerikanisch - Private Lies" (2000) and "Meine Tochter ist keine Mörderin" (2002), in which she struck a more serious note. Hormann wrote and directed the episodes "Blinde Liebe" (2000) and "Schuld und Liebe" of the long-running German television crime series "Bella Block".
With the football comedy "Männer wie wir" ("Guys and Balls", 2004) and the television film "Helen, Fred und Ted" Hormann went back to more humorous subjects. "Wüstenblume" ("Desert Flower", 2009) however, offered a more serious, socio-critical topic and was a box office success.
In autumn 2012 Hormann's adaptation of Paul Watzlawick's popular book "Anleitung zum Unglücklichsein" was released, only a few months later, in february 2013, the film "3096 Tage" (2013), the adaptation of the eponymous book by Natascha Kampusch, who depicts her abduction and 8-year-long captivity.
Filmography
2017
Wir lieben das Leben
Director
2016/2017
Tödliche Geheimnisse 2
Director
2016
Tödliche Geheimnisse
Director
2015/2016
Lotte Jäger und das tote Mädchen
Director
2015
Operation Zucker - Jagdgesellschaft
Director
2013/2014
Die Tote im Weiher
Director
2012/2013
3096 Tage
Director
2011/2012
Anleitung zum Unglücklichsein
Director, Screenplay
2008/2009
Wüstenblume
Director, Screenplay, Art director
2005/2006
Helen, Fred und Ted
Director
2003/2004
Männer wie wir
Director
2001/2002
Der Felsen
Title
2001/2002
Meine Tochter ist keine Mörderin
Director
2001
Schuld und Liebe
Director, Screenplay
1999/2000
Blinde Liebe
Director, Screenplay
1999/2000
Private Lies
Director
1998
Die Cellistin
Director
1997
Widows
Director
1995/1996
Irren ist männlich
Director, Adaptation
1993/1994
Frauen sind was Wunderbares
Director, Screenplay
1991
Leise Schatten
Director, Screenplay
1989/1990
Spieler
Set design, Title
1988/1989
Tiger, Löwe, Panther
Screenplay, Set design
1987/1988
Die Beute
Assistant director
1986/1987
Glückliche Zeiten
Assistant director
1986/1987
Über dem Abgrund
Assistant director
1986
Der kleine Bruder
Assistant director
1985
Drei gegen Drei
Assistant director
1984-1986
Schwarzes Wochenende
Assistant director
1982
Out of time
Set design