Veit Helmer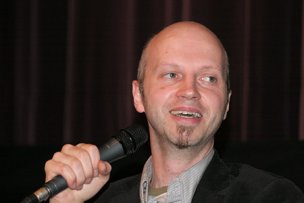 Source: DIF, Photo: Horst Martin
Veit Helmer at the Deutsche Filmmuseum, Frankfurt am Main, on March 16, 2008
Biography
Born in Hanover in 1968, Veit Helmer began making short films as a teenager and received prizes at amateur and youth film festivals. At the age of 18, he began a two-year training program as a floor manager at NDR, which also included internships in the cutting room, film lab and dubbing studio. He subsequently moved to Berlin and worked as an assistant director and production manager with such directors as Mathieu Carriére, Heiko Schier and Philip Groening. Shortly before the fall of the Berlin Wall in 1989, he moved to East Berlin to study at the Hochschule fuer Schauspielkunst "Ernst Busch".
In 1991, he was accepted onto the directors' course at the Academy of Television & Film in Munich (HFF/M). In 1992, he set up his production company in Berlin and has been a visiting lecturer on "visual storytelling" at film schools in Germany and abroad (Uzbekistan, Jakarta) since 1999. After winning several prizes for his short films, Helmer made his first feature "Tuvalu" in 1998, receiving the FIPRESCI Award at Ghent/Flanders and Audience Awards at Saarbruecken, Kiev and Luenen, the Bavarian Film Award for Best Newcomer Director, acting awards and special prizes in Moscow, and a nomination for the 2000 German Film Awards in the category of Best Director. His second feature film "Gate to Heaven" (2003) received its world premiere at the 2003 Hof Film Days and was released by Prokino in German cinemas in December 2003.
His other films include: "Tour d'Amour" (short, 1989), "Die Raeuber" (short, 1990), "Zum Greifen nah" (short, 1992), "Der Fensterputzer" (short, 1993), "Tour Eiffel" (short, 1994), "Surprise!" (short, 1995), "Die Brueder Skladanowsky" (as screenwriter and co-producer, dir: Wim Wenders, 1996), "City Lives" (documentary, 1999), "Hati-Hati, Malam-Malam" (short, 2000), "Uzbek Express!" (short, 2002), "Hundeleben" (short, 2004), "Caspian Bride" (short, 2005), "Behind the Couch – Casting in Hollywood" (2005), "Absurdistan" (2008) and "Baikonur" (2011).
Source: German Films Service & Marketing GmbH
Filmography
2013/2014
Quatsch und die Nasenbärbande
Director, Screenplay, Producer
2012
Dingi
Director, Screenplay
2010/2011
Baikonur
Director, Screenplay, Producer
2009
Dushanbe with Love
Director
2006-2008
Absurdistan
Director, Screenplay, Producer
2005
Caspian Bride
Director, Screenplay, Producer
2005
Behind the Couch - Casting in Hollywood
Director, Screenplay, Producer
2004
Hundeleben
Director, Screenplay, Producer
2004
Stierkrampf
Director
2003
Tor zum Himmel
Director, Screenplay, Producer
2002
Uzbek Express!
Director, Screenplay, Producer
2001
Freudenhaus
Creative supervisor
2000/2001
Hati-Hati, Malam-Malam!
Director
1998/1999
Tuvalu
Director, Screenplay, Producer
1995/1996
Game Over
Producer
1995/1996
Surprise!
Director, Screenplay, Producer
1993-1996
Die Gebrüder Skladanowsky
Co-Director, Screenplay, Editing, Producer, Unit production manager
1993
Der Fensterputzer
Director, Screenplay, Editing
1993
Tour Eiffel
Director, Screenplay
1992
Zum Greifen nah
Director, Screenplay
1991/1992
Die Terroristen!
Unit production manager
1990/1991
Super-Stau
Location manager
1989
Tour d'Amour
Director, Screenplay, Director of photography, Editing
1988/1989
Zugzwang
Assistant director
1988
Schlaflose Nächte
Location manager
1988
Erebos
Unit production manager